NEWS
What Would the Countess Do?: Group Gifting; Overbearing In-Laws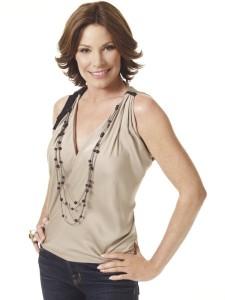 When it comes to etiquette, manners and overall good behavior, even celebrities need help navigating the rough waters of stardom! It's a good thing Countess LuAnn de Lesseps of the Real Housewives of New York is joining forces with OK! to school them on the right thing to do! In a rough situation, we just ask, "What Would the Countess Do?" This week the Countess dishes on organizing group gifts and dealing with in-laws.
Article continues below advertisement
WHAT WOULD THE COUNTESS DO?: BATTLING HEARTBREAK; MAKING NAMES STICK
Giving group gifts can be tricky — how do you decide on what to get and make sure everyone is comfortable with the plan?
Every group gift needs a leader to choose what to buy and to collect the money from those who want to chip in. If it's a wedding gift, I suggest consulting the registry. Once the gift is selected, you can divide the amount amongst the group evenly. To avoid conflict, let everyone know exactly what you are buying by sending an email link with the cost.
Tip: It may be the thought that counts, but it's the gift that they'll remember.
WHAT WOULD THE COUNTESS DO?: BLABBING ABOUT PLASTIC SURGERY; DEALING WITH CRITICS
How do you deal with an overbearing in-law overstaying his or her welcome?
Dealing with overbearing in-laws takes tact and strategy. Your spouse most likely loves his parents and is predisposed to seeing their side of an issue even when it's clear to you that they are in the wrong. Often, you are in a no-win situation unless you can convince your spouse to see your side of things. It's usually best to accept your in-laws for who they are and not try to change them.
Tip: Remember that when you marry a man, you marry his family!
LuAnn just released her new dance single and video on Ultra Records, "Chic, C'est La Vie" which is now available on iTunes!
For everything Countess LuAnn, check out www.classwiththecountess.com, follow her on Twitter and check out her Facebook page!