NEWS
What Would the Countess Do?: Positive Body Image; Fall Fashion!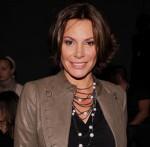 When it comes to etiquette, manners and overall good behavior, even celebrities need help navigating the rough waters of stardom! It's a good thing Countess LuAnn de Lesseps of the Real Housewives of New York is joining forces with OK! to school them on the right thing to do! In a rough situation, we just ask, "What Would the Countess Do?" This week she takes on body image issues and suggests some style for fall!
Article continues below advertisement
What advice do you give to your children on dealing with body image when in the spotlight?
I always tell my children that you can't look good if you don't feel good. Looking great and having an upbeat attitude depends on three things; getting enough sleep, eating smart and exercising daily. By making healthy choices a habit, you will have more energy to enjoy life and you will feel better about yourself. Being comfortable in your own skin is a prerequisite for moving through life with ease.
Tip: If you don't take care of yourself, nobody else will.
WHAT WOULD THE COUNTESS DO?: FASHION WEEK SOIREES; GIVING BACK
What are your picks for fall fashion?
I love fashion because it allows me to be creative. This fall, I plan on updating my basics with a few trendy pieces to keep my look fresh and interesting. The few pieces that I see as being style staples this season are leather jackets, ankle or calf high boots, and skirts at or above the knee. I'm also loving the smaller handbags and that camel is a hot color. Another trend I like is the red dress.