NEWS
What Would the Countess Do?: Sticky Friend Situations; Keeping Secrets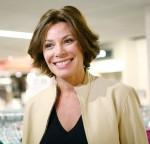 When it comes to etiquette, manners and overall good behavior, even celebrities need help navigating the rough waters of stardom! It's a good thing Countess LuAnn de Lesseps of the Real Housewives of New York is joining forces with OK! to school them on the right thing to do! In a rough situation, we just ask, "What Would the Countess Do?" This week we wanted to get advice on feuding friends and keeping big secrets!
Article continues below advertisement
Can you help friends in a fight or should you stay out of it?
When two friends are feuding, it is tempting to jump in the middle and try to referee a solution especially when you are sick and tired of the drama. I've found through experience that staying on the sidelines is the better strategy especially if you intend to remain friends with both women. If you decide to take a side, be prepared if the friends make up. Everything you said during their feud will be held against you. Better to be like Switzerland and let your friends work out problems themselves and be nurturing to both.
Tip: When you start judging, you stop listening.
WHAT WOULD THE COUNTESS DO? AWKWARD TV INTERVIEWS; CALLING OFF WEDDINGS
Sandra Bullock kept her adopted baby secret during all the hoopla over her cheating husband. How hard is it to keep secrets when you're in the limelight? Which things are best kept quiet?
Dorothy Parker once said, "I don't care what is written about me so long as it isn't true." When you are a public figure, you put yourself out there for scrutiny. It's like living in a fish bowl at times. After so many years in the limelight, Sandra Bullock knows very well how the gossip mill works. The decision to keep her adopted son a secret during the early days of her break-up made perfect sense to me. As the sordid details of her husband's infidelity unfolded in the press, she kept a beautiful part of her life private. Her new son is so adorable and Sandra deserves to have her privacy and be happy.