NEWS
What Would Kourtney Kardashian & Scott Disick Look Like with a Few Extra Pounds?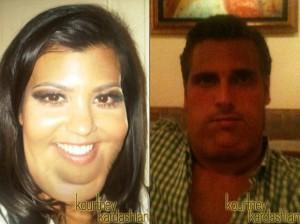 It seems like Kourtney Kardashian and Scott Disick weren't lying when they recently said that they were in a better place in their relationship. The couple joked around on Friday, posting enhanced pictures of themselves appearing to be much heavier on the Kourtney and Khloe Take Miami starlet's website.
"Scott and I were playing around with a phone application that adds some pounds," the new mom wrote on her blog.
Article continues below advertisement