NEWS
Which 'Spring Breakers' Scene Did Selena Find Freaky?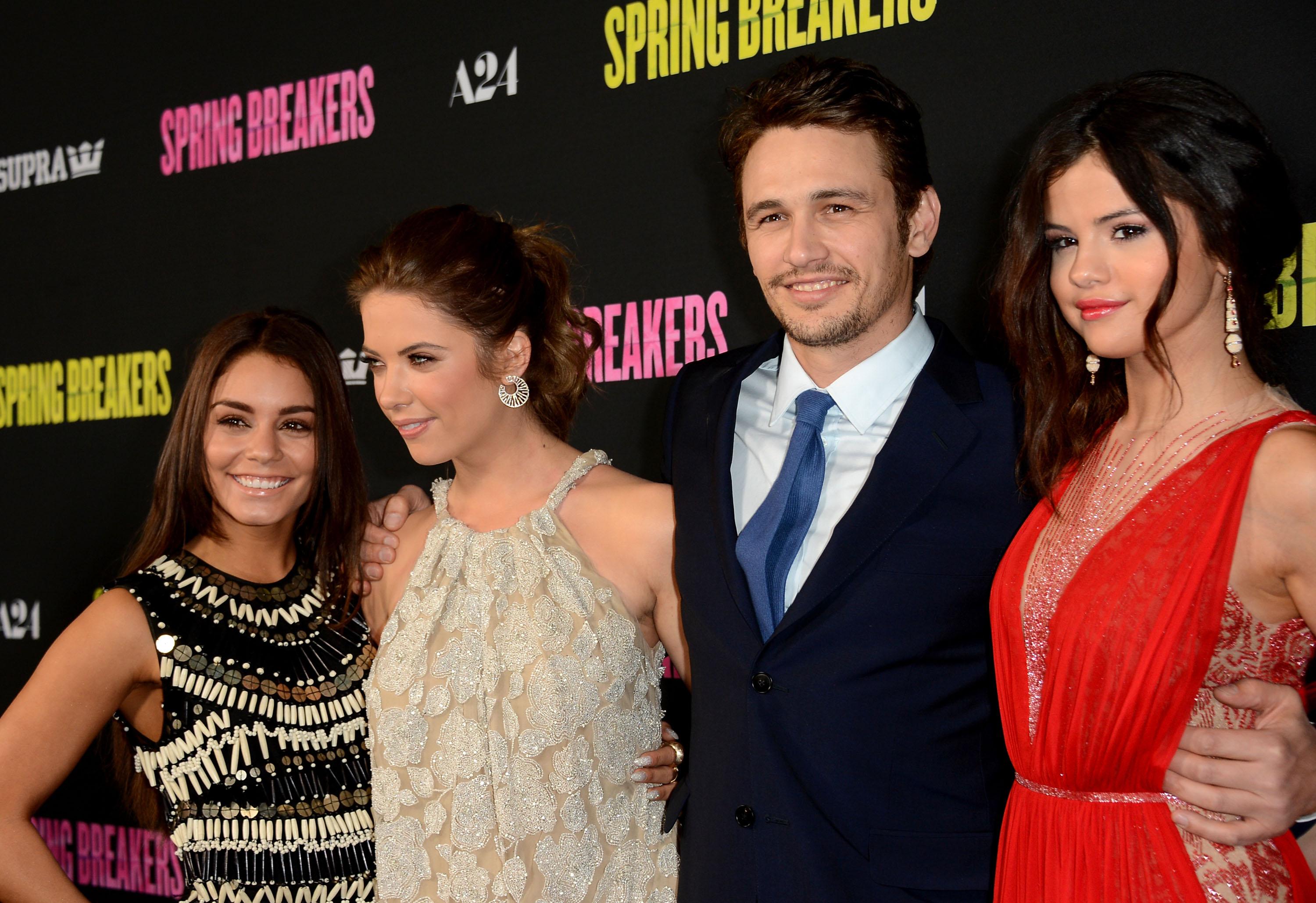 The cast of Spring Breakers came out in full force on Thursday night for the flick's Los Angeles premiere, and the focus was largely on the scandalous plotline which revolves around four besties involved in a restaurant heist and other raucous behavior to score enough money to go on, you guessed it, Spring Break. But at the end of the day, the movie's stars say it's all in the name of friendship.
Watch: Selena Gomez and Ashley Benson Belt Out a Britney Hit
Article continues below advertisement
"These girls have become my sisters," gushes Vanessa Hudgens of the experience. "That's what Harmony (Korine, the director) wanted and that's what he needed to make the movie feel right. These girls were friends since childhood. We came out two weeks before filming and hung out every day."
Photos: Nine Fabulous Dresses From the 'Spring Breakers' Press Tour
Selena Gomez agreed, and admits her favorite scenes are the ones in which she and co-stars Vanessa, Ashley Benson and Rachel Korine get to ride scooters and chill on the beach. But there's one scene in particular that kind of weirded her out. "The hardest scene to do, that I loved, was the one I did with James (Franco)," she said, looking stunning in a floor-length red gown. "It was really freaky and he was incredible in it."
OK! News: Who Crashed Vanessa Hudgens' Bowling Date?
Selena also loved having the chance to mill about Florida's Spring Break scene while filming, since she's never had the opportunity to partake in it herself. "I would say just walking around and getting to interact with all of the real spring breakers (was fun)," she says. "I felt like I was on Spring Break!"
Rachel took the opportunity to get into the spirit of things, too. "I like all of the party scenes (we filmed)," she said. "It was really fun being in with the crowd, with the real Floridian spring breakers and being able to take from their energy."
Spring Breakers opens exclusively in New York and LA on March 15 and goes nationwide on March 22.
What do you think of Selena taking on a role in the risque flick? Are you ready for one of our favorite Disney Channel stars to be all grown up? Tell us in the comments below or tweet @OKMagazine.