NEWS
Which TV Theme Song Was Just Voted the Best?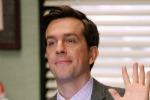 Ranker.com just announced the results of a recent poll about the best TV theme songs of all time. The winner is a good one and all, but there weren't nearly enough shows from recent memory for my liking!
Photos: The Best Houses on TV Shows!
Check out the winner, below, then go on a walk down memory lane with some of my favorites.These songs still have the uncanny ability to give you the giddy feeling of "Omg my favorite show is starting eeeeee!" even after all this time.
Article continues below advertisement
Not bad, not bad. But what about Full House? Has there ever been a better advertisement for the city of San Francisco?
Then there's the other Cameron sibling show, Growing Pains.
One last late '80s pick! Apologies in advance when this song gets lodged in your head until the weekend.
I picked the later version of the Blossom opening, where she's dancing in what appears to be a Sears portrait studio in a hot bandage dress with Joey Lawrence.
Okay, let's jump ahead to the soundtrack of my youth. I own the entire series of Dawson's Creek on DVD, and it kills me that they couldn't get the rights to the Paula Cole song. It's basically not the same show without the opening song.
Another teen drama favorite. That "deedle dee dee dee, deedle dee dee dee" is what I assume plays everywhere, at all times, in southern California.
And lastly, Pretty Little Liars sets an awesomely freaky tone. Plus, the girls just look really pretty in it!
Did we forget one of your favorites? Are you in the mood to watch these old shows now? Tell us in the comments below or tweet us at @OKMagazine.