NEWS
Whoopi Goldberg Attacks 'New York Times' for Oscar Snub; Did She Misread the Article?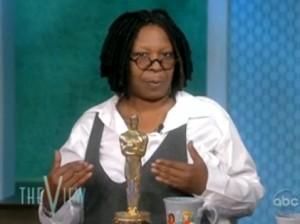 Article continues below advertisement
"When you win an Academy Award, that's part of what you've done, your legacy. I will always be Academy Award winner Whoopi Goldberg," Whoopi, who won an Oscar for Best Supporting Actress for Ghost, said. "This is not hidden information. And to these two critics, the head critics of the New York Times. It's hard to not take it personally."
"People in Somalia know. People in China know," she added. "I know it's hard to believe, but I'm a worldwide person who's known."
"I don't know what to say about what you've done. It's just, well I can say, is that your sloppy in your work and your supposed to be better than this," Whoopi said. "This is the New York Times, not some bozo newspaper from Hoochi-Coochie land. This is the New York Times. I just, you know, it hurts."
OK! NEWS: OSCAR NOMINEE COLIN FIRTH WINS BIG AGAIN IN LONDON!
But according to PopEater, Whoopi may have misread the article.
Article continues below advertisement
The authors write that when Denzel Washington and Halle Berry won their Oscars nine years ago, "Real change seemed to have come to movies or at least the Academy, which had given statuettes to a total of seven black actors in the previous 73 years."
And after Denzel and Halle, the article states, a string of Oscars were awarded to Jamie Foxx, Forest Whitaker, Morgan Freeman, Jennifer Hudson and Mo'Nique.
But PopEater contacted the NYT and the paper explained that Whoopi won her Oscar in 1991, which is more than a decade before the time period the authors were writing about, which was since 2002.
And she wasn't the only one not mentioned — Louis Gossett, Jr. (1982) and Cuba Gooding, Jr. (1996) where also not listen in the article.
Whoopi has not yet responded to a request to clarify her comments made against the NYT.
Who do you think owes an apology?