NEWS
Why Demi Moore Finally Filed for Divorce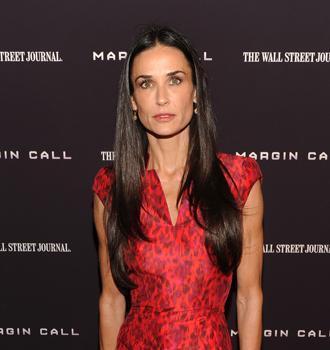 Ashton Kutcher's tearful pleas didn't work this time. No, the pain and public humiliation of his alleged cheating scandals ultimately proved too much to bear for Demi Moore, insiders tell OK! in this week's issue. Ashton was a serial cheater, say those close to the couple, and it sent Demi into an emotional downward spiral, which took its toll both mentally and physically. She finally hit the breaking point last week, prompting her to announce she was divorcing her husband of six years.
Article continues below advertisement
OK! NEWS: JENNY MCCARTHY ON ASHTON KUTCHER, DEMI MOORE & DATING
"It was with great sadness and a heavy heart that I have decided to end my six-year marriage to Ashton," Demi, 49, said in a Nov. 17 statement. "As a woman, a mother and a wife, there are certain values and vows that I hold sacred, and it is in this spirit that I have chosen to move forward with my life."
Their relationship has suffered as Ashton's indiscretions have leaked into the press," a source in their inner circle says, citing the alleged dalliance Ashton had last year with Brittney Jones, 21, and Sara Leal, 22, who said she hooked up with Ashton in San Diego on Sept. 24 — his sixth wedding anniversary. "The question was, how much more was Demi willing to put up with?
OK! NEWS: ASHTON KUTCHER BOUGHT DEMI MOORE NEW WHEELS
Despite the evidence, Ashton, 33, "did everything in his power to make her stay — crying, begging, promises, flowers, jewelry," an insider says. "He really does love Demi, but he's a womanizer and he can't seem to help himself." And Demi knew it, pals say.
"Any time Ashton would shoot one of those Nikon commercials and he'd be surrounded by beautiful models, his phone would be blowing up for days and sometimes Demi would be like, "Who's Tatiana?" the pal says. "There have always been other women."
FOR MORE ON ASHTON' AND DEMI'S DIVORCE, PICK UP THIS WEEK'S ISSUE OF OK! — ON SALE EVERYWHERE NOW!