NEWS
Will Chris Brown and Drake Take Fight to Boxing Ring for $9 Million?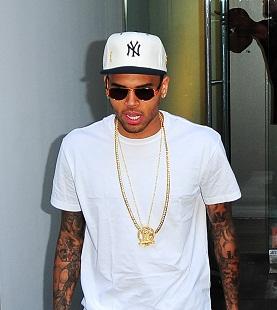 Well, if you're going to fight anyone, you might as well get paid for it! Right? Right? Oh, wait. No, that isn't right at all. Unless you talk to David Feldman, owner of Celebrity Boxing Federation, who is trying to get Chris Brown and Drake to take their infamous nightclub brawl to the boxing ring for a cool $9 million.
OK! NEWS: NYC BAR WHERE CHRIS BROWN-DRAKE FIGHT OCCURRED GETS SHUT DOWN
"The audience needs their imagination captured as much as the fighters do. These are two very important rap artists who will only do this for a big ticket number," David said. "This is something that should be attractive enough to get them in the ring."
Article continues below advertisement
This is after David offered $1 million, and then realized that's not enough. We're not sure why he thinks the $10 million he's now putting up would be enough either ($9 million for the winner, $1 million for the loooserrrr?). Chris Brown and Drake have money, dude.
OK! NEWS: DRAKE TO BE CHARGED WITH RECKLESS ENDANGERMENT FOLLOWING CHRIS BROWN BAR FIGHT
Adding to the whole "meet me in the schoolyard" feel of this whole thing is David's desire to include Rihanna, who is rumored to be at the center of Chris and Drake's feud, in the event.
"One thing we know, if she doesn't be the ring girl, she will be watching," he said.
Uh-huh. One thing we know, is that this will never happen. Given what went down with Chris and Rihanna, it's pretty safe to say RiRi would not be clamoring for a front-row seat to watch two guys fight over her. And, although David says he's been in talks with people from Chris' camp and one of them is "up for it," Chris' rep has said they have never heard from involved with Celebrity Boxing Federation.
"This is a tacky PR campaign by these people using Chris and Drake," Brown's rep told E! News.