NEWS
Will Conan O'Brien Invite Jay Leno on His New Show? "He Can Come as the Musical Guest"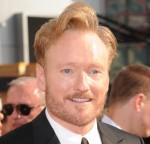 Conan O'Brien makes his triumphant return to television on Monday with his new TBS show, Conan, but he won't invite Jay Leno to appear — unless he's prepared to sing.
"He can come as the musical guest, because that I want to see," Conan tells Playboy magazine about his Tonight Show usurper. "No one knows he has an operatic range sings as Jay Leno. No, there are certain things I will not do, regardless of the price."
Article continues below advertisement
OK! VIDEO: CONAN DRIVES EXPLOSIVES-FILLED CAR OVER A CLIFF
Coco talks about his final impassioned speech when he left the Tonight Show. "I wanted to end on an optimistic note. I thought it could end up being the most important moment of my television career. It still could be…I have had too many good things happen in my career to end on any kind of bitter note.
He adds: "The entertainment business has an amazing way of turning really lucky people into bitter, angry, rage-filled, jealous, resentful wretches who can't believe they got screwed. Some things have worked out great for me, some things haven't. You keep going…Doing those last Tonight Shows was a high.
OK! NEWS: MAX WEINBERG DEPARTS FROM TEAM COCO
"A lot of people tuned in, and I was really proud of what I was able to make in that situation. So this was good, this was bad, this was ugly, this was beautiful, this was f*****-up, this was sublime. It was cherry, it was vanilla, it was frogurt, it was mocha chocolate chip."
How will this show be different to his NBC late night programs? "At the end of the day, it's going to be me doing whatever is in my power to entertain people for an hour. I'll break any rule. I'll use dangerous chemicals if I have to. I will meddle with the laws of God."