NEWS
Will Smith's Five Most Butt-kicking Movie Moments Ever!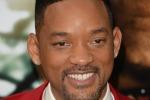 Article continues below advertisement
When he puts on a suit the first time in Men in Black. Who knew the fresh prince could be so... sexy?
When he beatboxes in Men in Black II to signal the whole post office to unveil their alien heads. Anything involving Biz Markie is pretty cool, really.
The hunting scene in I Am Legend. This movie terrified me and still haunts to this day, and it kicks off with this chilling scene of Will careening around an abandoned New York City to hunt down some deer.
You can't forget the action movie that started it all, Bad Boys! Watching this movie again, it is shocking how much cursing is in it. It feels alarming to hear Will curse, at least.
What is your favorite Will Smith movie? Do you prefer his funny stuff to the crazy action movies? Do you think you'll see After Earth? Tell us in the comments below or tweet us @OKMagazine.