NEWS
Win a Chance to Get Glam with Kim Kardashian!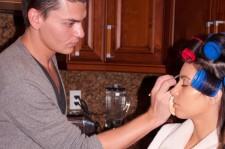 Calling all Kim Kardashian fans! Even Kim herself has to spend a little bit of time in the chair with her hair and makeup team to get glam! There's still time to win the celebrity makeover of a lifetime! Have you ever dreamed of getting a professional makeover? Or fantasized about hobnobbing with reality star and style aficionado Kim Kardashian? Well, here's your chance to do both — in one fell swoop!
Article continues below advertisement
Until Nov. 29, enter here to win the Get Your Glam On sweepstakes, sponsored by Sony Ericsson's Equinox Phone. To register, leave a comment at the bottom of this post explaining why you deserve a chance to be styled by Kim Kardashian and her Glam Squad. Your comment should also include your city and state.
10 semi-finalists will be chosen to submit a video, from which the winner will ultimately be selected.
CLICK HERE TO SEE KIM GETTING HER GLAM ON!
One lucky winner will travel to Los Angeles, where she'll receive new clothes chosen by Kim's stylist, have a consultation with Kim's hair stylist and a session with her makeup artist. When the makeover is complete, the winner will meet Kim in person, and a video of the occasion will live on Kim's official website!
In addition, the winner will receive a shopping spree, before and after photos with Kim and her Glam Squad — and a great story to tell for years to come!