NEWS
In the Words of Lady Gaga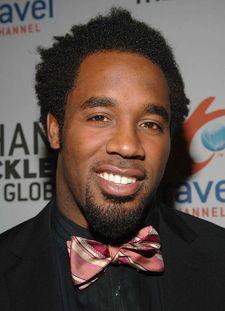 Just Dance...That's what I did until 3am, at Butter on a Monday.
It's amazing to me that Butter still owns Monday nights in NYC for what must now be five consecutive years! That's about how many years I've known Dhani Jones, the primary reason I made the executive decision to skip a pre-flight run along the Hudson for another glass of TYKU sake (and Patron shots) to celebrate his successful premiere of "Dhani Tackles the Globe" on The Travel Channel last night. The National Arts Club in NYC, where Dhani hosted his viewing soiree, got so crowded that the doors had to be shut down mid-cocktail hour. Thankfully (since I'm a bit vertically challenged), I had a front row seat along with NY Giant Danny Clark and the commissioner of the NFL to see Cincinnati Bengal Dhani train to be a Muay Thai fighter while in Thailand, the first stop on his world tour learning, and competing, in sports indigenous to the country he's visiting. Dhani also played soccer with elephants, ate crickets, ants and a bumble bee and got hit on by what he questions was a 'ladyboy.' That was just the first episode. So many shows on Mondays now what's a TIVO to do?
Article continues below advertisement
Now I'm in Houston – where my luggage was lost/delayed for the second time this week and third time this month! We all check bags the same, why do mine seem to defy statistics and not make it to their destination more often than not? Ugh.
But, so sad about Natasha Richardson. It puts things in perspective a bit, the nine pairs of shoes I brought for a ten-day trip are all replaceable, all of the minutes of our lives that we sometimes take for granted are not. Hopes and prayers for Natasha, her family and friends :( xo