NEWS
Work Out's Jackie Warner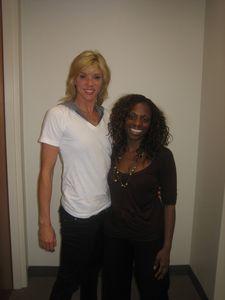 Just knowing that Jackie Warner was stopping by the office was enough to make me drop and give 20. The celebrity fitness trainer and owner of Sky Sport & Spa in Beverly Hills returns to Bravo tonight with the third season of her hit series Work Out. Fit, fabulous and fierce, Jackie spilled on her new season, her new love life and the secret to a killer bikini body!
You're calling this season full circle. Why is that?
Article continues below advertisement
Well, I'm involved in a relationship this season, and we added a few cast members who brought a lot of sexual tension and a lot of sizzle to the show for me. It was full circle because I was trying to get all of these projects, Sky Lab, my protein shakes and my clothing line all together. So that was good.
A new romance! How does that go?
Relationships are hard to the unforgiving eye of the camera. I don't know many successful couples that can do a reality show. There are so many things that you can never perceive of come up in that shooting. Insecurities and a lot of resentments come out. Whomever I date is never prepared for this experience. I found that out to be true this time as well.
We get to see you transform several lives this season.
I think their stories are very powerful. They allowed food to be their addiction and there's always emotional damage. That's why therapy is a part of my gym. We dig into that. Yeah you're gonna love their stories.
You have some crazy people working for you!
They're just very disobedient children who are always acting out for my attention. And when I don't give them the attention, they go nuts… and I don't mean just one or two, I mean almost all of them and they react in strange ways.
Article continues below advertisement
Fire them!
If they weren't cast members the axe would have fallen several times. (laughs)
Did you ever have a weight issue?
I did in college. I was in a small town in a rough area and the way I dealt with it is to eat fast food every day. I ballooned up from 118 to 162 lbs. I did experience being heavy and it was unpleasant for me. I woke up one morning and I said I can't stand being like this and I started working out and learning more about fitness. I lost the weight in about a year and a half.
You're putting out a workout DVD next month.
I really wanted to give the viewers a piece of Sky Sport. I brought in four of five of my trainers to do segments so it's very personalized. It's really like one-on-one training.
You have your new fitness clothing line coming out as well.
It's called Ten which means "sky" in Japanese. It's super soft and comfortable and available on my Web site, www.skysportspa.com.
Article continues below advertisement
Who would you love to train in Hollywood?
Britney Spears because I think she needs a life change and that's what I focus on. I deal with a lot of mental issues and disabilities and mental illness so it would be about decreasing her medications, increasing the good high and improving her diet. That would be the biggest challenge and I would love to take it on!
What's one move we can do to get bikini-body ready?
Pushups work the chest, back, shoulders and core. Do them till fatigue, then jump up and do 10 squats and 10 jumping squats. Do that three times, it only takes five minutes!
Work Out, season three, airs Tuesday, April 15 at 11 p.m. on Bravo. Tune in an hour early to catch the season finale of The Real Housewives of New York City at 10 p.m. on Bravo.