NEWS
Wyclef Jean Doing "Fine" After Being Shot in the Hand While in Haiti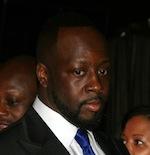 While visiting Haiti on Saturday for the presedential elections, singer Wyclef Jean was shot in the hand, according to new reports.
"I have confirmed from Wyclef that he was immediately taken to the hospital, treated for a minor graze to his hand and released," Wyclef's rep, Cindy Tanenbaum, confirmed to E! Online.
OK!'S NYC FASHION WEEK BLOG: CUSTO BARCELONA
Luckily, Wyclef, 41, "is fine," after receiving immediate treatment, the rep added.
Article continues below advertisement
Regardless of the incident, the Haitian born artist's devotion to his country, especially after the recent devastating earthquake, will be unaffected.
OK!'S NYC FASHION WEEK BLOG: TOMMY HILFIGER
"Wyclef's commitment to his native country and to his people is unparalleled. He is therefore undeterred by this incident."