NEWS
OK!'s NYC Fashion Week Blog: Tommy Hilfiger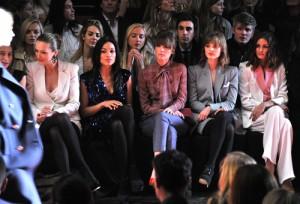 Can't make it to NYC for Mercedes-Benz Fashion Week? Don't worry, OK!'s got you covered! Tonight we checked out Tommy Hilfiger's runway show for a sneak peek at the designer's Fall 2011 women's collection and we loved every minute of it!
SHOW: Tommy Hilfiger
WHEN: February 13
WHO: Rosario Dawson, Petra Nemcova, Nina Garcia, Olivia Palermo, Rose Byrne, Mark Indelicato, Amare Stoudemire, Wyclef Jean, Russell Simmons
Article continues below advertisement
OK!'S NYC FASHION WEEK BLOG: MAZ AZRIA
FASHION: The theme of the evening was "Bohemian Prep" and described as capturing "the nonchalant style of a 1970's rock star's girlfriend" whose style is "based on bohemian, feminine, re-interpretation of the brand's menswear heritage." The collection definitely had a masculine edge with over-sized suits and toggle coats. Embellishments on the classic cable knit sweaters added a flair to the classic Tommy look. Pops of the leather were dispersed throughout the collection and silk jumpsuits added to the '70s vibe. One of Tommy's most impressive feats — his use of red, white and blue. It doesn't have to be Fourth of July to this color palette to shine.
BEAUTY: Models sported long straight hair with a a center part. Makeup was kept natural, with attention to nude lips and bronze cheeks. Some models wore wide-brimmed hats with their looks.
COLOR/OVERHEAD: It was a family affair for Tommy at the showing of his Fall 2011 women's collection. Daughter's Ally and Elizabeth Hilfiger sat in the front row cheering on their father's designs.
Article continues below advertisement
A remix of the Rolling Stones classic "Gimme Shelter" carried on throughout the show, setting the mood for the evening.
Rosario Dawson, who has been friends with the designer since the beginning of her career, was thrilled to root him on.
"I loved it. Everything looked so comfortable and you just wanted to snuggle up with it. The sweaters were gorgeous and parts of the collection had a beautifully, flowing, super sexy pajama feel. I loved the stripes and the free flowing style."
As for the suits featured in the collection, Rosario described the looks as "a sexy detective."
"Every single piece I want to wear right now and it all looked warm, cozy, yummy and delicious," she shared. "I want to go in the back and raid the closet — the models are done with it now."
Catch all the Tommy runway action in the clip below, via Bader TV!