NEWS
Wyclef Jean's Partnership on Track to Raise $1 Million per Day for Haiti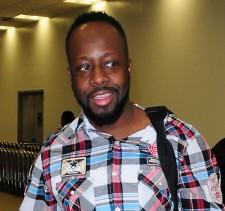 The Haiti support from Hollywood and the rest of the world continues to grow in the wake of the devastating 7.0 magnitude earthquake that struck the country yesterday. Give On The Go — a sub division on Red Fish Media — has raised $1 million for Wyclef Jean's Yele Haiti Foundation and hopes to keep the trend going to raise $1 million each day via its SMS text messaging drive.
Give On The Go is based out of Miami and is one of the primary service providers authorized by the Mobile Giving Foundation. The company works exclusively with Wyclef Jean's Yele Haiti foundation to raise donations for the disaster with one simple text message.
Article continues below advertisement
The company's technology allows participants to automatically donate $5 to the charity by texting YELE it 501501. Users are charged for their donation on their next cell phone bill.
As of now it has been reported that up to 3 million people in the impoverished country may have been affected by the quake, with the death toll hovering around 50,000.
Celebrities have been lending a helping hand to Haiti as much as they can. Brad Pitt and Angelina Jolie donated $1 million to the devasated country.
...and all the latest news, fashion and photos!