NEWS
'X Factor' Winner Melanie Amaro Says "Life Will Change A Lot" After $5 Million Prize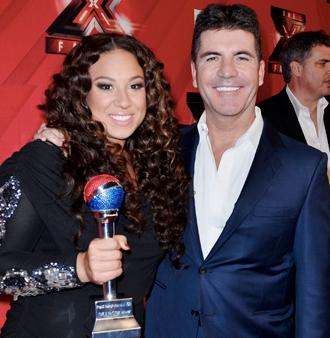 Melanie Amaro already has an idea of how she'll spend her $5 million after winning the first season of X Factor USA last night. From massages to new homes, Melanie is ready to dive into her newfound fame.
"Life will change a lot that is for sure," Melanie, who admits she was "shocked" by the win, said after the finale last night. "The most I've ever had was $200 in my account, if I was lucky."
Article continues below advertisement
The 19-year-old Sunrise, Fla., native, who was raised in the Virgin Islands, plans on buying her family their own luxurious estate, since the one they "live in right now sucks."
But what she's really looking forward to is a little rest and relaxation. "A good foot massage!" Melanie replied when asked what she plans to splurge on. "These heels are killing me."
As for her mentor, Simon Cowell, he's beyond thrilled for Mel, whom he calls a real "star."
"I remember when I was walking into her house. She was literally watching herself on YouTube. I knocked on her door, and she did a double take when she saw me," Simon recalled of her early exit after the home visit rounds to OK!. "I said to her, 'I've made a mistake. I admit it. I'm going to give you a second chance.'
"Standing right behind me now she's got the confidence, and I'm proud of the fact that the show found her," Simon proudly added.
OK! NEWS: WILL STEVE JONES BE BACK TO HOST THE X FACTOR NEXT SEASON?
"Simon taught me to never doubt my talents. Never doubt myself," Melanie gushed. "He said to always believe in myself, and I could go anywhere." And now, she truly can!
Reporting by Gena Oppenheim