NEWS
OK! Exclusive: Kyle Richards Changes Her Tune— Yolanda Foster Is 'Suffering' From Lyme Disease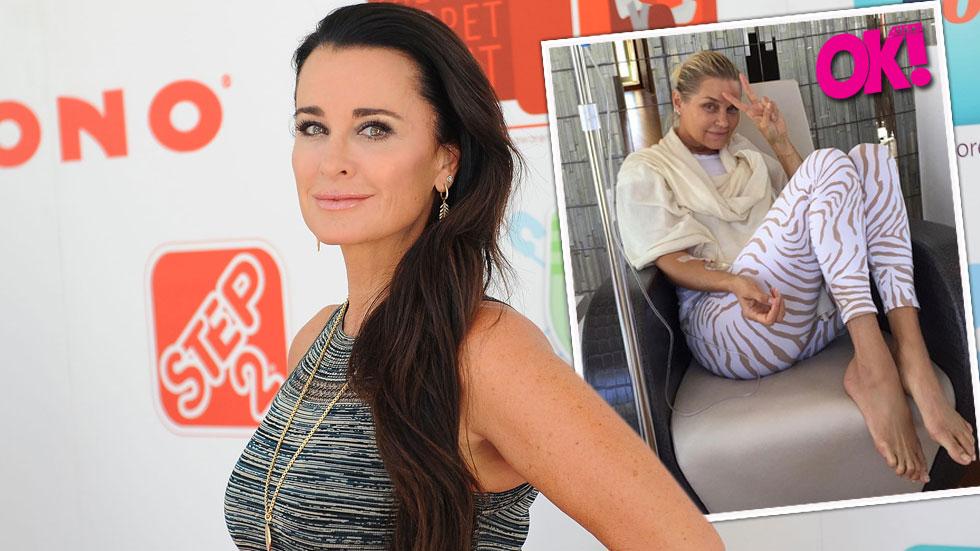 Kyle Richards has been playing both sides of the fence on The Real Housewives of Beverly Hills when it comes to co-star Yolanda Foster's Lyme disease battle, but now the former child actress is standing by her friend's diagnosis.
Kyle, 46, told OKMagazine.com, that Yolanda's, 51, battle with the illness is in fact, true and she is struggling everyday.
"There's no doubt whatsoever that Yolanda has Lyme disease and she is suffering," Richards insisted. "Every day is a battle for her."
Article continues below advertisement
Though, it was evident in the season six premiere that not all the women on the show are convinced. Lisa Vanderpump was "questioning" the authenticity of Yolanda's symptoms and in the trailer for the season, Lisa Rinna, throws around a Munchausen Syndrome claim.
Ringless Yolanda Foster Laughs And Smiles At RHOBH's Season 6 Premiere Party After Announcing David Foster Divorce
"It's certainly like to the average person, 'Wait this is very strange,' which kind of sparked like 'What is this? What is going on?'" explained Kyle. "And there was just some other things going on that Lisa Rinna in particular was questioning."
Munchausen's is a mental disorder in which the individual believes he/she is sick and exhibits symptoms, when there is no real illness or disease.
"With Lisa I think the questioning or saying the Munchausen comment was obviously disturbing to Yolanda," Kyle said. "That sparked a whole other thing."
Kyle Richards Slammed For Comments About Makeup-Free-Friend Yolanda Foster On RHOBH Premiere!
"Sometimes Lisa says things and gets herself into some big trouble," added the mother-of-four. "We knew when that Munchausen word came out of Lisa Rinna's lips, we were in trouble. Lisa Vanderpump and I looked at each other and went, 'Oh no… this is going to be a disaster!'"
MORE ON:
The Real Housewives of Beverly Hills
Article continues below advertisement
Lisa's words unfortunately backfired on her and she became the housewife that everyone ganged up on.
Kyle said, "We don't create a villain or decide, but things end up just happening and I think that it seems to be that when somebody says something that is out of place or taken the wrong way, that happens and the next thing you know they're fighting."
Yolanda called out her doubters in a blog post saying, "May neither they, nor their families, ever have to face such illness, because it is at that time when we learn and realize what really matters."