NEWS
Young Hollywood Shines Bright at Breakthrough Awards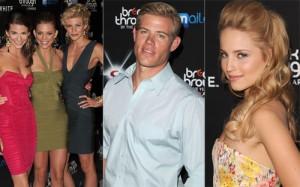 AnnaLynne McCord, Trevor Donovan and Dianna Agron were just a few of the hot, young celebs that hit the carpet Sunday night at the Breakthrough of the Year Awards in L.A. AnnaLynne was honored with the Breakthrough Standout Performance award and sisters Rachel and Angel McCord were on hand to celebrate!
Other stars in attendance include Jessica Szohr, Kelly Brooke, Dermot Mulroney, Rose Byrne, Sofia Vergara, Julie Bowen and Josh Hutcherson.
Article continues below advertisement
Glee star Dianna won Breakthrough Newcomer award and was so humbled by the honor.
"I have never even won a soccer trophy or anything like that so this year has been so wonderful," she told reporters. "I have things of my shelf, maybe that means I am a cool kid, I don't know."
Dianna and with her fellow Gleeks are also up for numerous Emmys!
"Well take it. Its just so mind blowing and very surreal. We are just trying to be as present as possible. There are so many monumental things."
She is also headed to the silver screen in The Romantics co-starring Josh Duhamel, Katie Holmes and Malin Akerman.
Article continues below advertisement
"We bonded so quickly the cast and the crew and we were out in Long Island and it was fall and it was many of our first falls in the east coast," Dianna explained of working on the film. "So everything was so charming. Everybody kind of reached out to us in the town and you know, it was very family like. We cooked dinners together and go on little trips, go to the beach."
Katie left a lasting impression on the young, talented actress.
"She was so sweet. Such a good mother, such a strong woman," Dianna gushed. "She was definitely somebody to look up to."
OK! VIDEO: KATIE HOLMES LUSTS AFTER JOSH DUHAMEL IN THE ROMANTICS TRAILER
And The Romantics cast even had an honorary co-star on set — Suri Cruise!
"Oh my god, Suri was there every single day," she said. "It always feels good to have family around."
So will Suri be the next guest star on Glee?
"No! Suri is too young. They don't want Suri acting yet," Dianna said.
As far as one guest star everyone is talking about — the Britney Spears — Dianna remained coy will talking about the Britney-themed show.
"We just started it and its so much fun and there will be some definite surprises," she said.