NEWS
YouTube Star Tyler Oakley Talks His Jaw-Dropping Birthday Accomplishment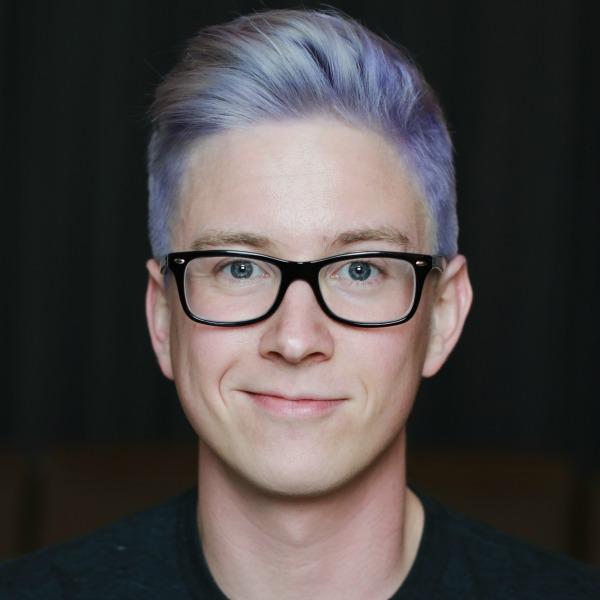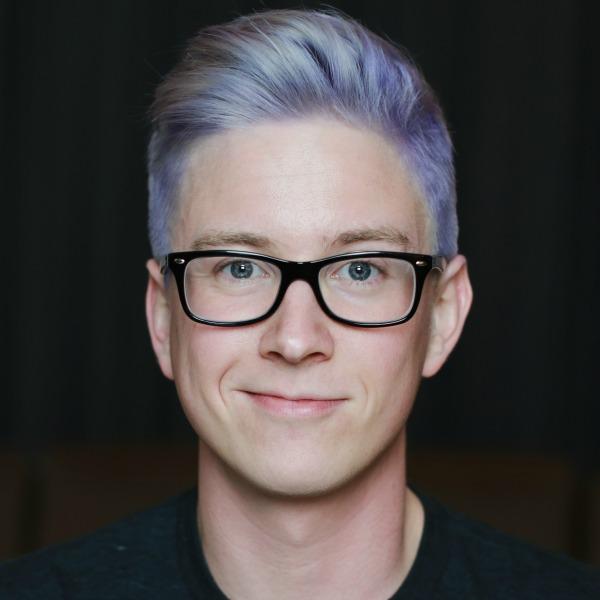 Most twentysomethings spend their birthdays with tequila shots, but Tyler Oakley is not the average 25-year-old. The YouTube star, who has 4 million subscribers and 159 million views (yes, 159 million views), used his social-media clout to get fans to donate to the Trevor Project in honor of his 25th birthday. He wound up raising half a million dollars for the group, which provides crisis and suicide prevention services to LGBTQ young people. OKMagazine.com talked to Oakley about his amazing accomplishment, and what's next.
Article continues below advertisement
WATCH: See this exclusive sneak peek at tonight's Teen Mom 2 reunion.
OK!: You're one of the OG YouTube stars. How has YouTube changed since you started making videos?
Tyler Oakley: I definitely think the entire environment has changed. When I first got started, everyone that did it had a passion for it. People still have that, but there are a lot of driving factors, like people realize it can be a stepping stone. So it's interesting to see that transition. I think the people that have survived are the ones that have both of those elements: the passion for it, and have something unique and creative to share with the world.
OK!: Who are you watching on YouTube these days?
TO: Oh gosh. Well, I have always been a huge YouTube fanboy. Going to the conferences, I'm literally meeting my favorite people. I really love Mamrie Hart. I love Troye Sivan. Let me look. A lot of the British YouTubers I'm really into right now, like Zoella. I love her. Miranda Sings I think is brilliant. Grace Helbig is iconic. I am a huge fan of the entire community, so it's hard to nail down just a few.
Article continues below advertisement
WATCH: Celebrities confess the weirdest TV shows on their Netflix queues.
OK!: You've been working with the Trevor Project for years. Why them?
TO: I grew up with a pretty supportive environment. My school was good, my direct family was good. When I went off to college, I remember seeing a much bigger picture of how the LGBTQ community is portrayed and accepted, or not. A lot of people would reach out and say, 'Oh, you helped me through this, and I started to see that wow, not all of my audience had the support I had. It was really important for me to find an organization that I can support that is a resource. I do get messages from people every day saying, Hey, I don't know how to get through this. To provide funding for that resource is really important to me.
OK!: Is there one response from a fan that really moved you?
TO: One that always comes to mind that really opened my eyes was an experience from a couple of years ago. I had made a video for National Coming Out Day, I think in 2008. In 2011 on National Coming Out Day, Ricky Martin tweeted the video, saying this was the reason he came out. It opened my eyes that just by putting yourself out there.. you never know who's going to see that message. You don't know your power.
Article continues below advertisement
radar_embed service=youtube src="//www.youtube.com/embed/UB9ILl0rtpU" width="560" height="315"
OK!: So tell me about this year's birthday goal.
TO: Last year, I was turning 24. The goal was $24,000. We exceeded the goal, we hit $29,000, which I thought was just insane. This year, I had a lot more growth, so I thought I wanted to do something bigger. I thought, What about $150,000? A lot of people said, oh, I don't know if that's really doable. We extended the deadline from 30 days to 50 days, but then in the first six days we hit $150,000. It boggled my mind. We talked to Prizeo and decided to keep going. There's an average of how much it costs the Trevor Project to successfully answer a phone cal, and it's about $15. To my people, it was not so much the number of money, but how many lives. That's been a driving factor of the passion behind the project.
WATCH: See gorgeous pics of Beyonce going makeup-free on vacation.
OK!: What did you go on your actual birthday?
TO: Well, I was at a YouTube conference in Florida. Every year there's a conference called Playlist Live, and it always falls on my birthday. Which is the most crazy way to spend my birthday, because it's a million people who know it's my birthday and are screaming at me. So I had my meet-up, a four-and-a-half hour meet-and-greet on my birthday, then some main-stage stuff in front of a couple thousand people. It was an overwhelming way to spend my birthday, but I wouldn't have it any other way.
Article continues below advertisement
OK!: I watched your recent video about naked pictures. Is there anything that's off-limits, that you wouldn't talk about in a video?
TO: My mom wishes! I always assume I have to be me, and I have to share who I am, because that's why people have been watching. I have to be my authentic self. There are a lot of things that other YouTubers wouldn't share, but I pride myself on just being me.
radar_embed service=youtube src="//www.youtube.com/embed/y9OAz2zZuZI?list=PL29MYs08TJ6MDUglLrRbbnfd5X3VkeVMw" width="560" height="315"
OK!: You've met a lot of celebs along the way. Who did you freak out about the most, and is there someone you still want to meet?
TO: Lady Gaga was probably the one I was really starstruck by. She is my queen, and I'm obsessed with her. That happened in 2008 or 2009. I would love to meet her again, because she was a different human, I was a different human. This year, I'm putting it out there. I'd love to meet and interview Beyonce, or Oprah. I want to interview Gaga. Those are my dream ones for this year.
Article continues below advertisement
OK!: Beyonce is the ultimate.
TO: Right?! Can you imagine?
PHOTOS: See the wildest athlete wardrobe malfunctions.
OK!: What's next for you? You keep accomplishing these amazing goals. What are you looking forward to in 2014?
TO: In 2014, I am really looking forward to world domination. I think the biggest thing for me is to keep going on YouTube. I always said I would keep doing it until I didn't enjoy it, and I enjoy and love every minute of the process, from filming to editing to uploading to reading fan responses. I love it still.
Have you ever watched any of Tyler Oakley's videos? Would you donate to the Trevor Project? How did you spend your twenty-fifth birthday? Tell us in the comments below or tweet us @OKMagazine.