NEWS
Zac Efron Admits He Dropped a Condom at the Premiere of 'The Lorax'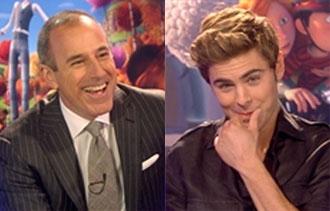 At least Zac Efron can 'fess up to his mistakes and/or embarrassing public moments. Unlike stars like Jennifer Lopez — who still adamantly denies her Oscars nip slip — Zac admitted that he did, in fact, drop a condom at the family-friendly premiere of The Lorax last week.
OK! GALLERY: TAYLOR SWIFT AND ZAC EFRON GET CHUMMY AT THE PREMIERE OF 'THE LORAX'
After a nice conversation about why he chose to do the animated Dr. Seuss film and how he loves Taylor Swift's voice in the movie, Zac was questioned on the Today show this morning by Matt Lauer about the awkward red carpet moment. "Take me through what happened," Matt asked a blushing Zac, who responded, "I don't want to take you through it."
Article continues below advertisement
"You dropped something," Matt persisted.
"I did, I did," Zac admitted. "I never really had a pocket-checking policy when I was going on the red carpet before, but now we've fully instated one," he joked.
"You dropped a, a condom," Matt stuttered, which made Zac laugh, "That was really hard for you to say!"
OK! NEWS: TAYLOR SWIFT AND ZAC EFRON PLAY A FOSTER THE PEOPLE GUITAR DUET FOR ELLEN DEGENERES
Matt insisted it wasn't and praised Zac, saying he was happy the 24-year-old is "better safe than sorry."
"It's a great message to add to the many messages in the film," Zac quipped.
We love the way he handled this. Now, he can movie past this condom fiasco! Watch the interview with Matt HERE and see his uncomfortable red-carpet moment below.