NEWS
Zac Efron Admits He Sings Beach Boys Songs to Impress Girls — Watch Him Perform on 'Conan'!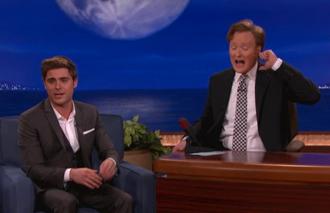 Zac Efron has no trouble impressing the ladies, at least we thought so. The Lorax star stopped by Conan on Monday night and revealed that while he was growing up, he'd do anything to get attention from girls, including singing and dancing for them!
OK! GALLERY: ZAC EFRON CATCHES UP WITH THE REST OF THE CAST OF THE LORAX AT THE PREMIERE IN L.A.
"I got handed the keys to the city here and I didn't earn them at all growing up," Zac told Conan O'Brien of being a Hollywood heartthrob. "I've always professed to be a pretty big nerd. I was into musical theater and stuff, so I didn't get that much attention."
Article continues below advertisement
So, what did he do to get ladies to fall head over heels in love with him? Sing, of course! (Hello, anyone remember High School Musical?)
"I would do a lot of singing and dancing and stuff like that. I was not at all afraid to perform for girls," Zac admitted.
Actually, he and some of his close buddies performed some barbershop tunes for some French women while on a school trip to Paris!
OK! NEWS: ZAC EFRON & TAYLOR SWIFT PERFORM A FOSTER THE PEOPLE GUITAR DUET ON ELLEN!
"We started singing acapella songs in France and a ton of girls loved it," Zac revealed. "We were these goofy, dorky Americans singing Beach Boys songs. We were singing 'Barbara Ann.'"
Conan was overjoyed by this news and asked, "Can we hear a sample? Can you do a little 'Barbara Ann' for us?"
Zac, of course, agreed and then asked Conan and his band's frontman, LaBamba, to join in for the harmonies. The trio does a pretty good job (cracking us up, at least). Watch the video below!