NEWS
Zac Efron on His Career: "The Stakes are High"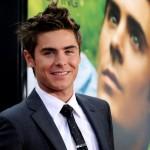 As an actor, Zac Efron isn't afraid to admit he's still learning and perfecting his technique, but he says that's all part of the fun!
OK! GALLERY: ZAC EFRON "SAYS CHEESE" FOR ALL HIS CHARLIE ST. CLOUD FANS
Career-wise, Zac is happy with the films he's working on and doesn't feel ready head to take on a superhero role.
"When a superhero movie is about to get made, we're at different levels of conversation about it. I find that it's hard to commit to an action movie for the sake of doing action," he tells Movieline in a new interview. "I love action as much as the next guy, but I wouldn't say it's my favorite genre or one that I look for an amazing performance in...I think it would be about finding the right one."
Article continues below advertisement
And as of now, he hasn't found one.
"It hasn't been the right time necessarily, or it's too early. I don't feel that I've earned it quite yet, to be honest. The people that you see them find for superheroes, you go, 'Oh yeah, that's great. That guy is perfect, what a great idea.' Ryan Reynolds as Green Lantern? You go, 'Finally, he's going to do something great! We've been waiting for it, he's done all these other things and now I want to see him as that character.'"
OK! GALLERY: VANESSA STANDS BY HER MAN ZAC FOR CHARLIE ST. CLOUD PREMIERE
While Zac's time in the spotlight grows stronger, he's still learning and isn't embarrassed by that!
"No, that part's fun, man," he says. "The stakes are high, but that's why it's interesting. I'm ready, man. That's the thing: I'm willing to put in that work to get there. I know that given the right time and the right guidance, I can do it, and I'm confident in myself in that way. I'm not shy about that. I know I will be able to do it."
Article continues below advertisement
But Zac does think remaking a thriller like Snabba Cash could put him closer to feeling more capable of playing action roles.
"You know, maybe. I don't look at movies as an interim to doing something else, but Snabba Cash, I look at that character and I see someone who's driven by a naiveté and a classic class struggle," Zac explains. "I see a way into that character that I could believe myself in, and that's few and far between these days."
"I read scripts, and people tell me, 'Matt Damon was going to do this project.' And I'm like, 'Of course Matt Damon was going to do that project, it's f**kin' crazy! I can't do that,' he laughs.
OK! VIDEO: ZAC SAYS "IT WAS HARD" TELLING VANESSA CHARLIE ST. CLOUD BEAT BEASTLY
But Zac doesn't let his lack of confidence stop him from living his life even when he knows he could be photographed at anytime!
Article continues below advertisement
"I mean, I'll say that it goes through my mind a lot," he shares. "You just have to know that if you're in a place that isn't private property — if you're in anywhere public — more often than not, there's going to be someone there. If you're even anywhere where there's people nowadays…people are so integrated with their mobile phone cameras. It's like The Matrix.
"It's not the worst thing in the world," Zac adds of his shirtless beach photo being so popular. "And you know, aside from that, I had this amazing trip with my brother. He's just graduated from school, and I haven't been able to connect with him as much as I've wanted to since I've been away filming and going on trips...We lived it up, and it was really fun."
Zac's new film, Charlie St. Cloud, crashes into theaters Friday!