NEWS
Zac Efron on Love Scenes With Taylor Schilling in 'The Lucky One': "It Was Very Natural"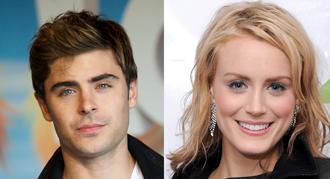 When it comes to shooting love scenes, there are all sorts of rules to make sure that both you and your co-star are comfortable.
And that wasn't any different for Zac Efron and Taylor Schilling while filming those romantic scenes for their new movie, The Lucky One.
Zac admits to Access Hollywood that they couldn't help but laugh between takes. "You can't take it too seriously. At the end of the day, the best thing to do is laugh all the way through it. It's hilarious," revels the hunky star.
Article continues below advertisement
OK! GALLERY: ZAC EFRON CHILLS OUT IN RAINY NYC AS HE PROMOTES THE LORAX
He even admits that it's a very unusual scenario that actors are put in. "Making a love scene is pretty funny. But at that point, we had been working together for months and we knew each other very very well. It was very natural and second nature."
Adds co-star Taylor, "It was really comfortable. It wasn't awkward at all."
But did the two lovers on-screen have any rules before the cameras rolled? Is there a lot of gum being chewed?
Zac admits, "I chew more gum that day than typical." Taylor says, "A lot of mints and no onions."
Have they ever shot a love scene with bad breath?
OK! NEWS: ZAC EFRON'S FIRST MEETING WITH HIS LUCKY ONE CO-STAR TAYLOR SCHILLING: "I ALREADY LOVE HER"
The High School Musical star reveals, "I had a kissing scene one time and I totally ate a tuna sandwich. And it was the first one we had to do and I got called out on it. It was so embarrassing and I have never done it again. And we were filming! It was on Summerland, ages ago."
Taylor, however, sticks up for her new pal: "You were still learning. Zac knows all the rules now. He was a class act, he knows what he is doing."
Are you excited to see Taylor and Zac's love scenes in The Lucky One?