NEWS
Zac Efron's First Meeting With His 'Lucky One' Co-Star Taylor Schilling: "I Already Love Her"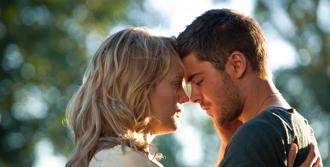 Get ready for another Nicholas Sparks book to hit the big screen! Zac Efron and Taylor Schilling are the newest stars to take on one of the famously romantic roles for the upcoming film, The Lucky One. As many fans will agree, chemistry is very important for stories and it sounds like Zac and Taylor have what it takes!
OK! GALLERY: ZAC EFRON CHILLS OUT IN RAINY NYC AS HE PROMOTES THE LORAX
The Lucky One tells the story of Marine Logan Thibault (Zac) who travels to North Carolina after serving three tours in Iraq to search for a woman (Taylor) he found a picture of and believes to be his good luck charm.
Article continues below advertisement
When Zac his co-star Taylor for the first time, it was love at first sight.
"Taylor came in and was so professional and just so good," Zac recalled to Coming Soon. "...I just remembered she was doing so many cool, subtle things that I was just fascinated with. So I was like, 'I already love her. I don't know how anybody else couldn't.' It made sense. She totally deserved it at this point. So I was blown away with her."
As for Taylor, she didn't know anything about Zac before she met him — but she learned to love him.
"The thing is, honestly, I didn't know much of anything about Zac before I got this because I had never seen those High School Musical movies," she explained with a laugh. "At this point, really, I can't wait to see them when we're done, because I can't wait to see what he did before... I really got to know Zac when I tested for this film with him."
Article continues below advertisement
And Zac blew her away too!
"He was just such an incredibly charming, down-to-Earth guy for me coming in. Me, who had never done a studio film before," Taylor said. "He made me so comfortable at that test and was so generous and so wonderful and was also so interested in the work. He was so engaged in the scene and was so good. Just so good. So talented. It's just been so wonderful to work with someone that I feel really has my back as a scene partner. There's some really vulnerable stuff in this movie."