NEWS
Zach Braff's Not Gay: "My Old Website Got Hacked"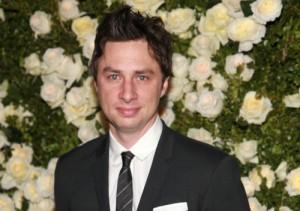 Zach Braff is not gay, as his old website announced today, but instead he is the victim of a hacker.
OK! NEWS: ZACH BRAFF JOINS JAMES FRANCO & MICHELLE WILLIAMS IN OZ
This morning a post appeared on Zach's former website that claimed he was "excited and proud" to announce that he is homosexual.
But the actor's rep told E! News that the post was a hoax and Zach was hacked.
The post on the old version of Zach's website said, "To all my loyal fans, I have been hiding this secret inside me for too long... The human mind can only bare sic so much before it explodes in emotions and well... it's time to let the world know. I am excited and proud to announce that I am an open member of the homosexual community. This is not news to those closest to me, and I honor that they have kept it a secret for such a long time. This doesn't change anything. I am still Zach Braff, and I am the same man I've always been, gay or not. Thank you to all my supporters and look forward to seeing me soon! I couldn't be happier about this announcement!"
Article continues below advertisement
OK! NEWS: SCRUBS STAR ZACH BRAFF SHOWS OFF GIRLFRIEND TAYLOR BAGLEY
But the post was not made by Zach.
"He was hacked," the 36-year-old star's rep said. "The website has not been used since 2006. He is still straight."
And Zach decided to make his statement on Facebook.
"My old website got hacked," he wrote. "Someone issued a 'coming out' statement on my behalf. I'm still straight and in love with my girlfriend. But not too straight; I still love musicals, brunch and Doogie Howser."
He also posted his official statement as a video of the song "Guy Love" from Scrubs.
Watch it on Zach's Facebook page HERE!