NEWS
Zach Galifianakis is Hosting 'SNL' This Week! Relive His 5 Funniest Moments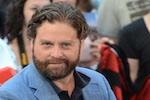 Article continues below advertisement
Between Two Ferns, Oscar Edition—On Zach's Funny or Die talk show series, Between Two Ferns, Zach sits down with some of Hollywood's most respected actors and actresses. Zach hosted a special for The Oscars where he interviewed Oscar nominees like Bradley Cooper of Silver Lining Cookbook. Yes, that's the movie...according to Zach.
Zach on Late Night With Jimmy Fallon—Zach turns the tables on late night host, Jimmy Fallon, and let's put it this way; it was a real snooze.
Zach in The Hangover—Hands down, our favorite Zach moment of all time. We can't think of anybody else who could have pulled off a satchel and take a hit from Mike Tyson better than him. Get in here, crazy, and check out this hilarious clip.
Do you have a favorite funny Zach Galifianakis moment? Will you be watching him host SNL tomorrow night? Are you excited to see The Hangover III? Tweet us @OKMagazine!