NEWS
OK! Exclusive: Devil's Due's Zach Gilford On The #DevilBaby vs. Teen Pregnancy And His Back-to-back Honeymoons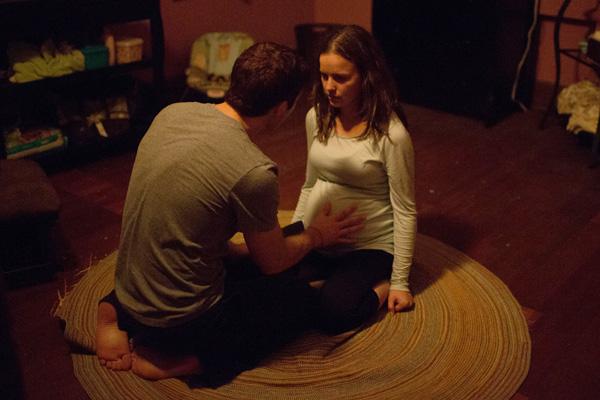 Have you seen the viral video yet of #DevilBaby? The one where a fake, electronic baby goes out in NYC to scare strangers on the street? Watch that here, and then read on because we chatted with the guy who stars in the movie featuring that demon child, Zach Gilford. Zach told us all about Devil's Due, like how his honeymoon in the film compared to his real one, how the demon pregnancy compares to teen pregnancy (had to go there), why he wishes Nene Leakes was a guest with him on Watch What Happens Live, and more. Oh, and as for the demon baby? Zach told us that it didn't deter him from having kids because he's "pretty confident that my sperm will produce a good baby." Phew. Keep reading!
Article continues below advertisement
Photos: Hot Guys Starring in the Most Anticipated Movies of 2014
OK!: Congrats on Devil's Due! What separates this film from other horror movies?
Zach Gilford: There's not some crazy monster or slasher running around. I think one of the things where we tried to make it different was it kind of starts out as a love story and you genuinely like the couple and you're not waiting for them to get killed. So you get more emotionally invested when terrible things start happening to them because you don't want it to.
OK!: How did your real-life wife (Kiele Sanchez) feel about the fake honeymoon scenes? Because in this movie, you guys get pregnant on your honeymoon...
ZG: (Laughs). She wasn't excited. I actually filmed this a month after we got back from our honeymoon, and she was like, you're the only person in the world who gets home from your honeymoon and then gets to go on another honeymoon with another woman. And like, go ziplining and go stay at these beautiful resorts. I'm like its work, honey! I swear to god it's work.
Article continues below advertisement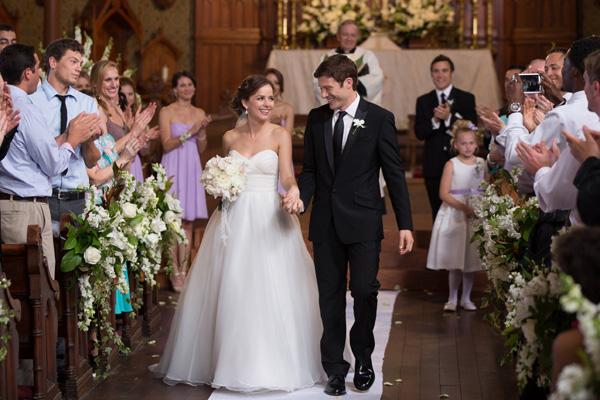 OK!: So I would imagine your real honeymoon was better, because the one in the film is pretty darn creepy.
ZG: The real honeymoon was amazing. We had fun. We went to Tokyo, Kyoto, Hong Kong and we spent a bunch of time in Bali and traveled to a bunch of different regions in Bali.
OK! Exclusive: Bravo's Patti Stanger Shows Us What's In Her Purse
OK!: You were on Watch What Happens Live on Tuesday. How was that? Do you like Bravo?
ZG: (Laughs). I love Top Chef, I'm kind of obsessed with it. And my wife has, I don't know, all the Housewives on all the time. Whenever I turn the TV on she's watching some Housewives. So I would've loved to have met some of them. But I kinda got excited because at one point I saw that Nene (Leakes) was gonna be on this week and I was like OMG I hope she's on my show. But she wasn't.
OK!: So you'll go back to WWHL when you promote Purge 2 and Nene will be there...
Article continues below advertisement
ZG: Yes, hopefully, that would be a dream come true.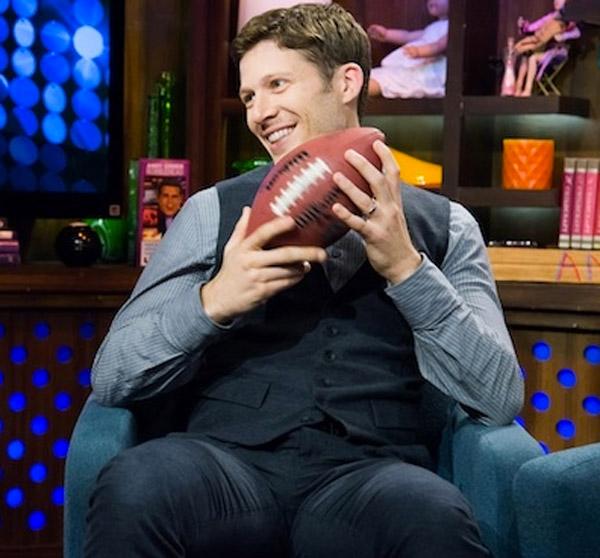 OK!: And your wife is in Purge 2 with you, right?
ZG: Yeah, our first week of it, not everyone knows that we're actually married in real life too so they'll see us holding hands or hugging in between scenes and we joke that they're probably thinking like, 'gosh these actors are moving into this relationship real fast.' People keep coming up to us like wait, you're actually married? Oh, that's so cool! Most people are like, how is it? and you're like, 'oh its great you get to work with your wif'e and they're like, 'oh, we would kill each other. If I had to work with my wife, one of us would be dead,' so like, why are you married?! (laughs).
OK! News: See The Snubs and Surprises of the 2014 Oscar Nominations
OK!: Speaking of other movies, did you see your old Friday Night Lights co-star Kyle Chandler in The Wolf of Wall Street?
ZG: I did! I loved it. He had such a great scene on the boat where he tells Leo off. It's fun seeing him in anything. He's such an amazing guy. It was pretty cool.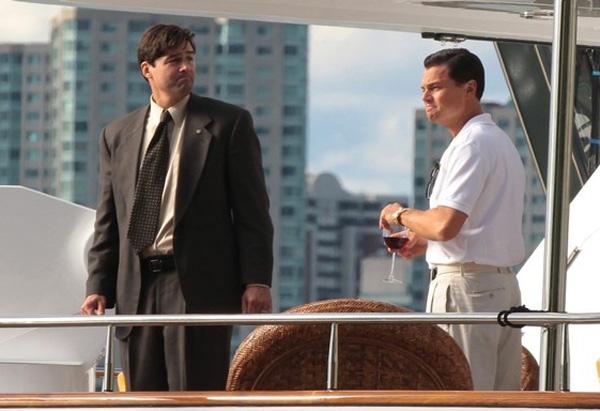 OK!: Do you still follow the careers of any of your other FNL co-stars?
Article continues below advertisement
ZG: Well, Jesse Plemmons is one of my closest friends in real life. He played an instrument while Kiele walked down the aisle at our wedding. And I just saw Lone Survivor and congratulated Taylor Kitsch, I sent him a text, and I think we root for each other and it's cool to see everyone doing pretty well.
Watch: Tris and Four Kiss in the First Clip from Divergent
OK!: Does this movie make you scared to have kids?
ZG: (Laughs) No, because I know it's not real. In the movie she gets raped by some devil people and it's not my actual sperm, so I feel confident that my sperm will produce a good baby.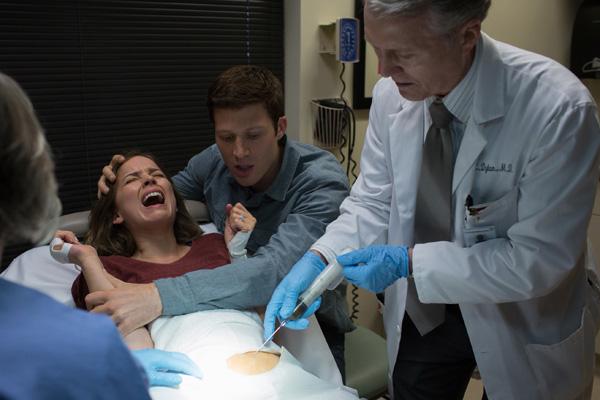 OK!: Would you say the pregnancy in this film is worse than teen pregnancy?
ZG: (Laughs). Yes, this is definitely worse than teen pregnancy. It's pretty bad. And there's always people stalking us! It just turns into a real bad unfortunate situation.
Check out Zach in Devil's Due which is in theaters now! Are you going to see the movie? Who would you like to see Zach with next time he's on WWHL? Tweet us @OKMagazine