NEWS
Zoe Kravtiz on Gabourey Sidibe's 'SNL' Gig: "She's Going to be Great"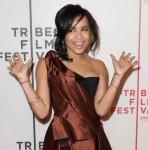 Article continues below advertisement
Zoe is the daughter of celebs Lenny Kravitz and Lisa Bonet, but she's sure she won't be one of those celebrity children who spiral out of control.
"I wasn't raised that way," Kravitz tells PopEater. "My parents, they're in the spotlight or whatever, but they're really normal. I just got lucky. They're two people who happened to get famous because they're artists. They're artists before they're celebrities, and they raised me that way. Fame had nothing to do with it. It was all about connecting and honing your craft. I just wasn't raised that way. It doesn't mean anything to me."
OK! VIDEO: GABOUREY SIDIBE GEARS UP FOR SNL HOSTING GIG!
Zoe is working on her craft of acting and has one person she looks up to in Hollywood.
"Helena Bonham Carter," she said. "I think she's so great. She is the best combination of sexy, creative and totally bats---t crazy. She's a character actress, which I love, but she makes that sexy. I want to be her when I grow up."
Zoe will be starring in the upcoming film, Yelling to the Sky, opposite Gabourey who she thinks will be great hosting SNL.
She describes Gabourey as "'bubbly, hilarious, quick as a whip."
"It's so funny, because with Precious, she's nothing like that," Zoe explained. "She's the most bubbly person you'll ever meet. She's going to be great."