NEWS
Zooey Deschanel Jokingly Tells Jimmy Kimmel Big Sis Emily Tormented Her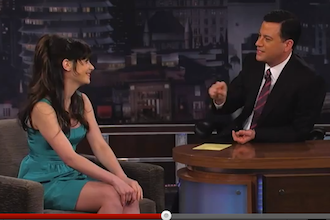 Considering there's a four-year difference between actresses and sisters Emily and Zooey Deschanel, they sound pretty close. Both of them star in their own Fox hits, Bones and New Girl, respectively, but all bets were off last night when Zooey jokingly described how her sis used to torment her.
OK! NEWS: ZOOEY DESCHANEL IS ADORABLE ON SET OF NEW GIRL IN L.A.
Last night on Jimmy Kimmel Live, younger sis Zooey dished about a trick Emily used to play on her. She explained, "She basically just used the plot of Invasion of the Body Snatchers to terrify me."
Article continues below advertisement
Get this: Emily told her she was replaced by an alien from Neptune. "The Neptunians had killed my real sister and replaced her with a facsimile who looked just like her, talked just like her, but when my parents weren't in the room, made crazy faces at me."
OK! NEWS: DERMOT MULRONEY ROMANCES ZOOEY DESCHANEL ON NEW GIRL
Although it's not clear as to how long Emily kept the trick going, it sounded like it was quite a while, and it scared Zooey a lot, too.
"She would make me cry and then she would laugh," she recalled. Maybe she told the story as a fun way to get back at her sister? Before dishing to Jimmy, Zooey mentioned Emily "came on here and humiliated me in front of millions of people." Hmmm. Sounds like sharing the Neptune story was the result of sweet sisterly revenge!
Catch the clip here!