NEWS
Zooey Deschanel Reveals She Doesn't Want Kids: "That's Never Been My Focus"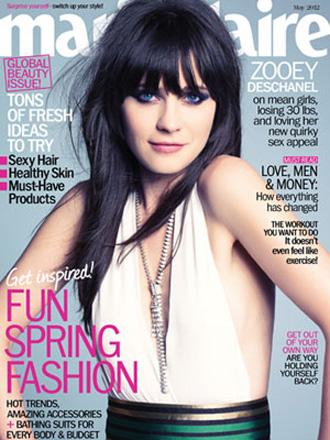 Zooey Deschanel may be fun, quirky and "adorkable," but when it comes to motherhood, the bubbly actress isn't interested.
"That's never been my focus," Zooey tells the May issue of Marie Claire, which she covers. "My sister Emily Deschanel was always very motherly, babysitting and stuff. I like kids, and I like being around kids, but it was never an ambition, something, like, I need…I like working. That's what I like doing. I like to work."
Article continues below advertisement
OK! NEWS: ZOOEY DESCHANEL JOKINGLY TELLS JIMMY KIMMEL THAT BIG SISTER EMILY TORMENTED HER
As for why motherhood may not be in her future, it might have something to do with the fact that Zooey was bullied growing up, which hurts her to this day.
"I still have in me the same awareness when I was 12 and chubby and a girl was spitting in my face. I'm the same person," Zooey reveals. "Certainly you change, and you change perspective, you have other experiences. But isn't it funny — I can still remember when I was treated differently from the way I'm treated now."
With her success as Jess on Fox's hit show New Girl, Zooey has found that people are beginning to recognize her more, whether they're embracing her personality or finding it completely "weird." Take Saturday Night Live for instance, which just spoofed Zooey this past weekend with a sketch called "Bein' Quirky with Zooey Deschanel."
OK! NEWS: SELENA GOMEZ IS 'TWIRLY' FOR NEW GIRL STAR ZOOEY DESCHANEL
But despite being a household name nowadays, Zooey says she's content living a life full of work and empty of male companionship. Since her heartbreaking split from her husband, Death Cab for Cutie's Ben Gibbard, Zooey admits she's been avoiding the dating world.
"Honestly, I'm just going through a divorce, so I don't really think that's something I want to get into now," she admits. "I don't have time to date. I literally don't have time."