NEWS
Zsa Zsa Gabor Scheduled for Leg Amputation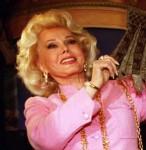 Actress Zsa Zsa Gabor, 93, will have the lower half of her right leg amputated to prevent the spread of gangrene. Last night doctors examined a growing lesion and and decided she needed to return to the hospital for amputation.
OK! NEWS: ZSA ZSA GABOR IN STABLE CONDITION AFTER BEING TAKEN TO HOSPITAL
This marks yet another setback for the Hungarian actress. Zsa Zsa broke her hip in July and has been in and out of the hospital several times since then. In August she even asked a priest to read her last rites! Then, in November she was diagnosed with blood clots in her legs.
Article continues below advertisement
OK! NEWS: ZSA ZSA GABOR UNDERGOING SURGERY
According to her husband, Prince von Anhalt who talked to TMZ, physicians recommended doing the surgery before the holidays. Zsa Zsa preferred to postpone it until the holidays concluded, thereby perhaps spending her last holidays with her family. It sounds like doctors insisted that it can't be delayed any further - it could perhaps cost her life! Here's to a speedy recovery and healthy new year for Zsa Zsa.