COUPLES
'I Got Engaged': Aaron Rodgers Slips Big News Into NFL MVP Acceptance Speech Just Days After Being Linked To Shailene Woodley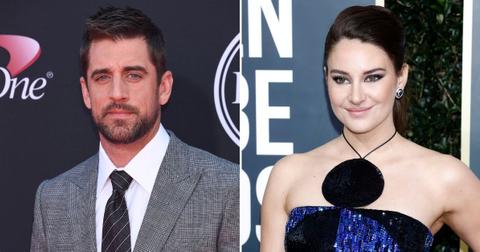 Feb. 7 2021, Updated 12:22 p.m. ET
View all comments
Only days after football pro Aaron Rodgers and actress Shailene Woodley's rumored relationship was made public, the couple may already be preparing for a walk down the aisle.
Article continues below advertisement
When Rodgers made his acceptance speech during the NFL honors on Saturday, February 6, the 37-year-old casually dropped the news that he popped the question.
"It's an honor to win this award for the third time. 2020 was definitely a crazy year, filled with lots of change, growth, some amazing memorable moments. 180 straight days of having my nose hairs scraped. Playing for very little fans or no stands the entire season, I got engaged, and I played some of the best football of my career," Rodgers said.
Rodgers thanked his new fiancée during the speech but not by name.
Woodley is also yet to publicly acknowledge the romance.
Earlier this week, E! News reported that Rodgers and Woodley were in a "private and low key" romance.
"They have seen each other and been in touch," a source spilled. "They continue to talk and see each other when they can. They are both focused on their careers but they also make time for each other."
Rodgers' engagement comes less than a year after his split from Danica Patrick in July 2020 after two years together. Woodley was previously dating Ben Volavola in 2017 but called it quits because they "were very much on the road to marriage and children."
"I realized I was still at an age where I wasn't able to fully commit. I couldn't be available to him in the way that I wanted to be. I didn't fully love myself," the Divergent actress told Bustle in April 2020.
"Aaron and Shailene are dating!" a source also told Us Weekly. "They started off as friends, but things have turned romantic. The two are staying in contact while they are living away from each other. The relationship is long-distance for right now, but they are making it work."
Scroll down to see social media's reactions to the news: