NEWS
Amanda Kloots Shuts Down COVID-19 Vaccination Shamers, Says She Was 'Terrified' Following Husband's Death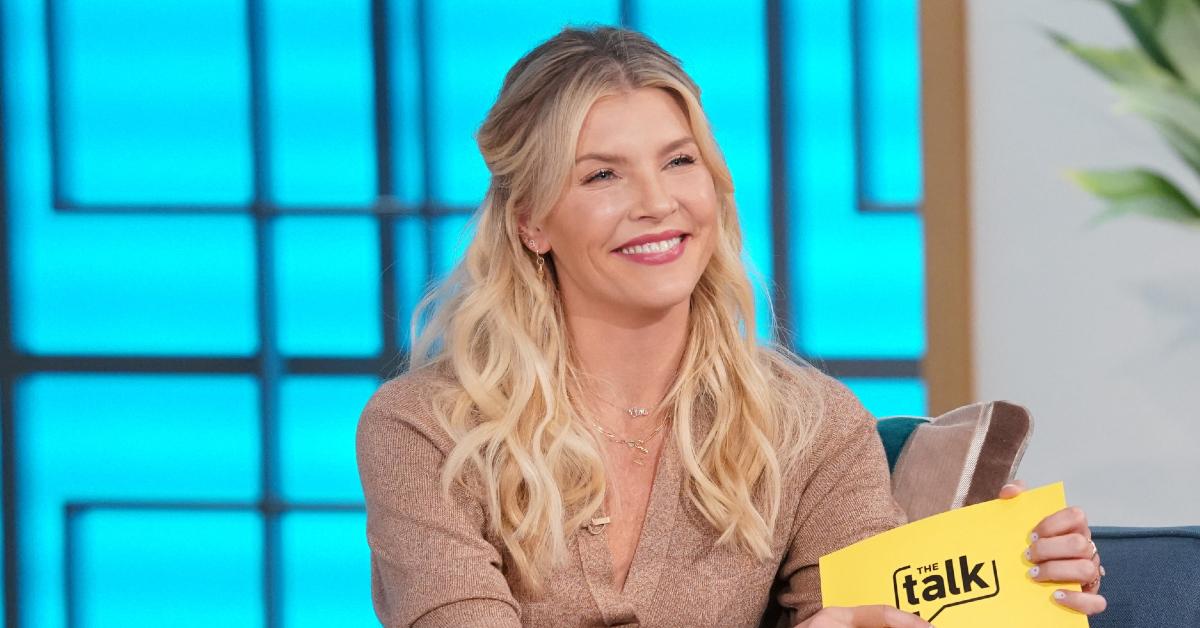 Hooray for…social media shamers? Amanda Kloots took to Instagram to respond to followers angered by photos of the The Talk host getting vaccinated following the devastating loss of her husband, Broadway's Nick Cordero, last summer.
Article continues below advertisement
The fitness pro and entrepreneur, 38, shared a photo of herself happily getting the COVID-19 vaccine while sporting a mask featuring the name of her young son Elvis and a "Hooray For" shirt from her own line of apparel. The snap angered many fans of the social media influencer, as only essential workers and residents over 65 are currently permitted to receive the vaccine in Los Angeles.
One follower wrote, "Can you explain why you got the vaccine ahead of 65 year olds and first responders here in LA that cant get them yet?" Another asked for an explanation as to why Kloots was able to get vaccinated while educators are still failing to get appointments.
Kloots, who used Instagram to chronicle her husband's 90-day hospital stay due to COVID-19 before his passing in July, immediately defended her vaccination with an emotional explanation.
Article continues below advertisement
"I went to a site and waited in my car until all appointments were over in hopes that they had any extra vaccines," she said. "I was fully prepared to be turned away, but they said they had enough tonight for everyone waiting. I cannot tell you how emotional I was and still am right now."
She went on to write, "I have been terrified since Nick has passed, as a single mother of getting this virus and now I am one step closer."
Article continues below advertisement
Celebrities like musician Finneas, and actresses Jennifer Love Hewitt and Olivia Munn, who left heart emojis, responded with positivity and support.
"I am so happy you got vaccinated Amanda!" said Jesse Tyler Ferguson. "If any one is offered a vaccination that would otherwise have to be tossed out, TAKE IT! It's the responsible thing to do. You did this the right way Amanda & you lead by example."
The Talk co-host Carrie Ann Inaba wrote, "I'm so happy you were able to get the vaccine. What a smart way that you did it!"
Broadway's Ashley Park left similar sentiment. "Thank you for taking this first step. You are a role model, an incredible mother, and a diligent citizen."
Article continues below advertisement
Kloots discussed the backlash and multitude of shamers in her Instagram stories saying, "Vaccine shaming should not happen. Everyone should be getting this vaccine, and anyone that gets it, we should be celebrating that one more person has got the vaccine."
She went on to add, "Instead of being thrown out, they were put into an arm…an arm of a surviving single mother that deserves to have an extra vaccine that would have been thrown in the trash."
Article continues below advertisement
Stars once again applauded Kloots' actions when she posted a photo touting an interview she gave PEOPLE on Saturday in which she addressed shamers, stating "I will not stand for vaccine shaming!" Katherine McPhee Foster commented, "Yessss, you tell em!!!!" Selma Blair wrote, "Absolutely. Let's be grateful anyone is there to take a vaccine that could go to waste and add to herd immunity."
Article continues below advertisement
Despite Kloots' response, followers continued to comment with their discontent toward her actions. "Many of us do not have access and would want it. And having the money and job flexibility and child care to allow you to wait all day is also a privilege," one wrote. "People are frustrated and want more equity and that is valid."
Another follower clapped back to Kloots, "People are taken aback that you would cut in line instead of helping those in your community who are eligible receive 'throw away' shots. We would all be celebrating you getting your vaccine if you did so at the appropriate time. Perhaps if you absolutely felt that it was necessary to do this you should have done so privately."