PHOTOS
New 'The Talk' Cohosts Amanda Kloots & Elaine Welteroth—Inside Their Private Lives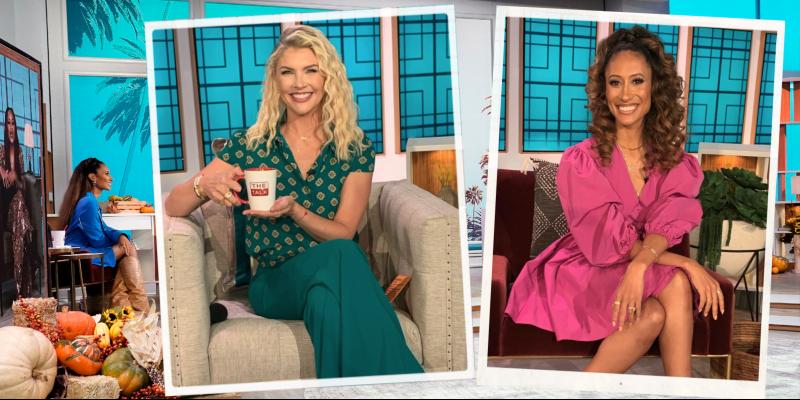 Popular daytime talk show The Talk has added two more cohosts to the table after Marie Osmond left the series a few months ago. On Tuesday, December 1, it was announced that Amanda Kloots and Elaine Welteroth would be joining the panel in January, alongside Sharon Osbourne, Sheryl Underwood and Carrie Ann Inaba.
Following the exciting news, both ladies took to Instagram to *talk* about their new gig. "OMG MOM I GOT THE JOB @thetalkcbs ? Sooo, I guess I'll be seeing you guys in your homes on national freaking television EVERY DAY!! Not quite the announcement my mom was expecting but she's thrilled (swipe to see what I mean?)," Welteroth, 33, wrote.
Article continues below advertisement
TALK SHOW TRAINWRECKS! 25 CELEBS WHO TANKED AS HOSTS
"This is unequivocally, one hundred percent a God Thing and there is no other way to put it. Landed in LA less than a month ago for more life and got blessed with the kind of divine assignment I never saw coming!" she raved. "And yet, the minute I sat down next to these incredibly warm, dynamic women @sharonosbourne @sherylunderwood @carrieanninaba @therealeve who welcomed me in and let me learn from them, I knew there was something special brewing."
The Emmy-nominated series has seen lots of turnover in the past few years, so hopefully Kloots and Welteroth can keep ratings afloat.
In the meantime, scroll through the gallery below to learn more about the lives of these two ladies.
Amanda Has Overcome Great Tragedy
Kloots' husband, Nick Cordero, passed away in July from COVID-19. The Broadway star had been in the hospital for 95 days, but unfortunately didn't win his fight against the horrible disease. The two met when they starred in the Broadway show Bullets Over Broadway in 2014, but they didn't strike up a romance until later on.
"We were friends first and then fell in love," she wrote on Instagram in June. "We got married in NYC in 2017 and had their first child Elvis two years later."
However, the blonde beauty has been open with her followers about how she has been coping these past few months. "I find a text from friends that says 'I love you' sometimes is exactly what I need," she explained. "Don't be afraid to ask her how she is and talk about her husband. It honestly feels more weird when a friend ignores that Nick is gone."
Luckily, having Elvis around has helped, too. "Thank god I have a little piece of my husband," she told PEOPLE. "Anytime I'm sad, he brightens my mood in two seconds. He looks at me with his big smile and his little teeth, and I'm instantly transported into a different mood."
Article continues below advertisement
Amanda Became A Fitness Star
Kloots was cast in Bullets Over Broadway, but the show closed after only three months, and she was stuck finding another job. "I had been teaching fitness classes for the past few years as a way to get by in between shows. I had never planned for it to be more than that, but I quickly found it was something I loved doing," she told Time magazine in 2018.
Over time, Kloots "realized this job was more than a hobby."
"I had created my own way of working out with a jump rope that I knew was unique. I saw how it was changing my body and decided I needed to start teaching it to my classes. So I took a leap — or jump — of faith and started my own business," she said. "My class, The Rope, debuted at Studio B, a workout space in New York City, in April 2016."
Soon enough, the class took off. "To this day when I stand in front of a group of women and men eager to skip rope with me, I get tears in my eyes," she said.
Article continues below advertisement
Amanda Has Been Married Twice
At the same time that her Broadway show was ending, so was Kloots' relationship. "I found my marriage unexpectedly and abruptly ending after seven years," she told Time magazine. "Just six months before it seemed like everything was about to fall into place, now everything was falling apart. I found myself in my thirties without a job, without a husband and without a plan."
Article continues below advertisement
Elaine Had An Incident With Uber
In 2018, Welteroth had an incident with Uber. When she was riding in the car, the driver called 911 on her, slammed the door on her arm and lied to the 911 operator by telling them that Welteroth was attacking them, which wasn't true.
"Dear Uber: I am posting the following video of an incident that occurred yesterday with one of your drivers," she wrote on Instagram.
The driver refused to drop her off in the right place, and the Uber driver said it wasn't his "job" to get the address right. He then "shouted and demanded that I get out of his car and then called 911 on me," she said. "So, I turned on my iPhone video and I hit record.
"I debated long and hard about whether or not to post about this," she added. "But too often Black women are shamed into silence because of a belief that, no matter what we say or do, no matter who we are, ultimately we will be perceived as just another 'angry Black woman.'"
Article continues below advertisement
Elaine Is The Youngest Editor In Condé Nast's 107-Year History
Welteroth became editor-in-chief of Teen Vogue at just 29 years old, which was unheard of in the journalism industry. She was also Condé Nast's second Black editor-in-chief across their brands and was the first Black beauty director in 2012 for Glamour magazine.
Article continues below advertisement
Elaine Met Her Now-Husband When She Was 12 Years Old
Welteroth married her husband, Jonathan Singletary, amid the coronavirus pandemic. The two met when they were around 12 years old through church. There was no romantic connection at the time, but the two reconnected after Singletary visited New York City for some job interviews. "He reached out to me over Facebook to grab drinks while he was in town," she told Vogue. "I was fresh out of a breakup with nothing better to do than meet up with 'that guy from church,' but I expected to be home early."
The pair ended up hitting it off, and the rest is history.