Embattled Actor Armie Hammer Once Joked Of His Shocking 2011 Arrest: 'Probably Not The Last'
Despite his Hollywood pretty boy image and high-class pedigree, more and more details about actor Armie Hammer's past continue to emerge — including his arrest for drugs nearly a decade ago.
The mugshot from Hammer's 2011 arrest for possession of marijuana has resurfaced, adding to the growing list of woes plaguing the actor.
Article continues below advertisement
The Rebecca actor originally posted the image – complete with a preppy popped collar look – to his Instagram account in 2018 with the caption: "It might not be Thursday, but this throwback seems worth it...#godblesstexas."
In the comments, he wrote that this is "probably not the last mug shot" he'll ever have. "Prison jumpsuits are not known for their fashion ... or comfort," he reportedly wrote elsewhere.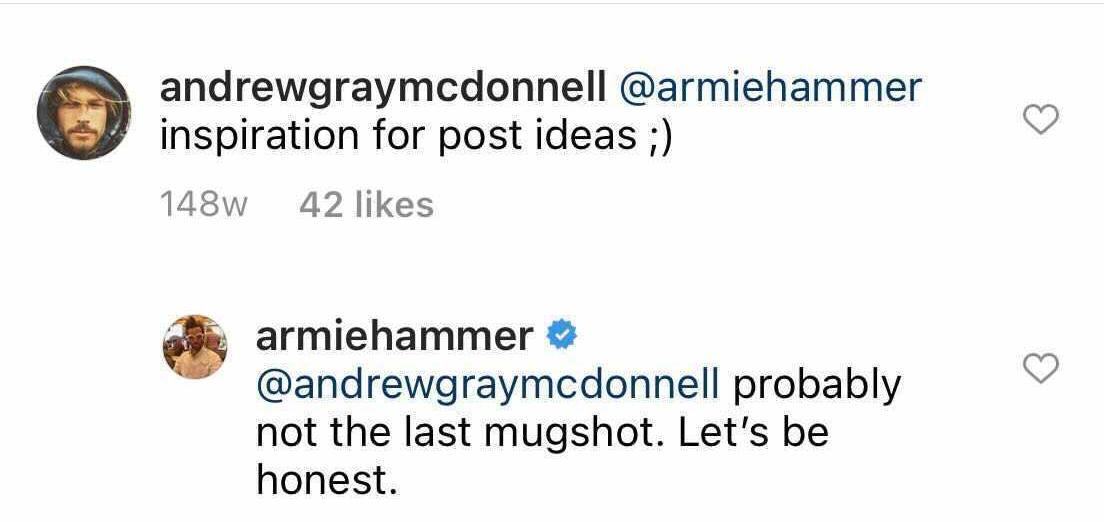 Article continues below advertisement
Back in November 2011, Hammer, then 25, was detained by police at a border control stop in Sierra Blanca, Texas, after a drug-sniffing dog got a whiff of 0.2 ounces of marijuana, including three medical marijuana cookies and one brownie, in the actor's car.
Hammer spent a day in jail before paying a $1,000 bond and being released; the charges were later dropped.
"The inmates were great," Hammer quipped during a March 2018 appearance on Conan. "I made some lifelong friends."
After posting the police image to his social media, Hammer joked about the situation during an appearance on Conan.
While driving through the Lonestar State in a U-Haul truck with a friend, the actor came upon a random border control stop, with a sign that said: "Canine on duty. All vehicles will be inspected."
"I knew at that moment that I was f***ed," Hammer told the talk show host.
Article continues below advertisement
In the throwback photo, Armie is half-smiling and sporting his trademark Hollywood good looks.
"I had no idea that my collar was popped," he explained, joking, "I had my stylist call ahead."
But recent allegations against Hammer, now 34, are nothing to laugh about.
Article continues below advertisement
The drama started when Instagram user House of Effie (@houseofeffie) posted screenshots of shocking DMs allegedly with the actor, which went viral. Some of the lurid messages date back to 2016, when Hammer was still married to Elizabeth Chambers (the couple announced their separation in July 2020).
"I need to eat your entire body. I need to touch every part of you, inside and out ...I want to bite pieces off of you," read one of the messages, said to be from Hammer but not verified. "I am 100% cannibal."
Hammer's ex-girlfriend Courtney Vucekovich also came forward with details about his grisly sexual appetite.
"He said to me he wants to break my rib and barbecue and eat it," Vucekovich told Page Six. "He likes the idea of skin in his teeth. He says, 'I want to take a bite out of you'. If I had a little cut on my hand, he'd like suck it or lick it. That's about as weird as we got."
Article continues below advertisement
In a newly surfaced video exclusively obtained by OK!, Hammer appears to be drinking while driving and, in another clip, licking a white substance from the hand of a man. The man can be heard saying, "Sh*t's getting weird," before ingesting the mystery white powder.
Hammer, who voluntarily pulled out of his upcoming film Shotgun Wedding, says he is not formally commenting on the matter – but had some strong words about the allegations.
"I'm not responding to these bulls**t claims but in light of the vicious and spurious online attacks against me, I cannot in good conscience now leave my children for four months to shoot a film in the Dominican Republic," Hammer said in a statement. "Lionsgate is supporting me in this and I'm grateful to them for that."