EXCLUSIVE
Shocking Leaked Video Shows Armie Hammer Cracking Open A Beer While Behind The Wheel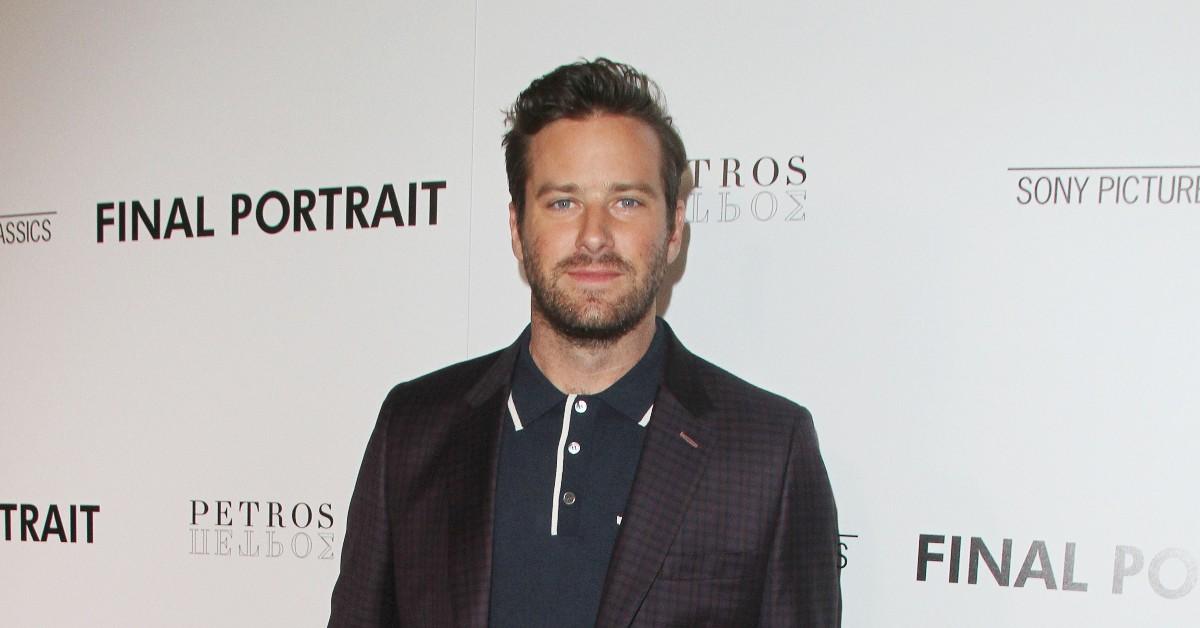 Beer and driving are not two things to mix. So, has Armie Hammer completely lost it?
In a frightening video obtained by OK! and believed to have been recorded around September 2020, the 34-year-old actor can be seen cracking open a can of beer while driving behind the wheel of a car.
In the exclusive clip — which was taken on a cell phone and OK! has declined to publish — Hammer was wearing a gray T-shirt. After opening the alcohol and taking a sip, he said: "Sending love, boys."
Article continues below advertisement
This is the second disturbing video of the Hollywood star to leak. OK! also obtained a video of Hammer licking a mystery white substance while in the passenger seat of a friend's car. He appeared to be wearing a similar outfit, before he ingested the mysterious powder and declared: "S**t's getting weird!"
As Hammer was sporting short hair in mid-September, it looks like the videos were taken around the same time he posted an Instagram photo of himself with friend Adam Shankman. "Thank you @adamshankman for the covid safe work out … next time try to sweat more to make me feel better," Hammer captioned a photo of himself wearing a green bandana, gray T-shirt and black shorts while smiling alongside the film director.
Article continues below advertisement
"I am 100 percent a cannibal. I want to eat you. F**k. That's scary to admit. I've never admitted that before. I've cut the heart out of a living animal before and eaten it still warm," the note reads.
Another reads: "I'd chase you down and pounce on you so fast if you tried to walk away. You'll need something strong to hold me back from you."
Article continues below advertisement
After the messages were leaked, writer Jessica Ciencin Henriquez — who was spotted with Hammer in September 2020 — shared her thoughts about the alleged explosive remarks on Twitter.
"If you are still questioning whether or not those Armie Hammer DMs are real (and they are) maybe you should start questioning why we live in a culture willing to give abusers the benefit of the doubt instead of victims. 🤔 TW// sexual violence," she wrote, attaching screen grabs of the alleged messages.
Article continues below advertisement
She added: "Because some of you made it to adulthood without knowing what this is. Abuse: cruel and violent treatment of a person or animal."
After fans read the alleged messages, they were less than pleased with Hammer. "Wow. I think I'm going to be sick," one person said, while a second added, "This guy has legit serial killer vibes. Yikes!" A third user commented, "Spill what you know. I didn't think I could experience shock at this point but apparently I can. Wtf?"
SOCIAL DISTANCING FOR GOOD: CELEB COUPLES WHO'VE CALLED IT QUITS DURING QUARANTINE
This wouldn't be the first time Hammer — who shares two kids with estranged wife Elizabeth Chambers — has gotten candid about what he's like in the bedroom.
"Well, if you're married to a feminist as I am, then it's... I don't know how much we can put here without my parents being embarrassed, but I used to like to be a dominant lover," he told Playboy magazine in 2013.
Article continues below advertisement
"I liked the grabbing of the neck and the hair and all that. But then you get married and your sexual appetites change," he said. "And I mean that for the better — it's not like I'm suffering in any way. But you can't really pull your wife's hair. It gets to a point where you say, 'I respect you too much to do these things that I kind of want to do.'"
The dad-of-two's social media activity also went viral in 2017 when users found out that he liked a few tweets about BDSM and bondage.
Hammer — who split from Chambers in July after 10 years of marriage — has been spotted with a couple of women, but for the most part, he has been trying to work on himself post-split.
"I think like everyone else on the planet, I felt like the rug was ripped from under my feet," he said about his time in quarantine. "And I felt like I could feel it happening in slow-motion, like the rug was just being ripped from my feet and I was falling face-first and I was gonna smash my face on the ground. I felt like I was in a state of like, free fall almost, like it was just, it was really difficult."
At the time of publication, OK! was seeking comment from a rep for Hammer.