'I'm Over Being Made Small': Courtney Love Slams 'Clowns' Dave Grohl & Trent Reznor, Accuses Nine Inch Nails Frontman of 'Systematic Abuse'
The gloves are off. Courtney Love took to Instagram on Sunday, June 13, to slam fellow rockers Dave Grohl (the drummer alongside Nirvana's founding member and Love's late husband Kurt Cobain) and Nine Inch Nails frontman Trent Reznor in an explosive, since-deleted post.
Article continues below advertisement
According to ThePRP, the 56-year-old alleged that previous music videos from the Foo Fighters — Grohl also founded the '90s rock band — and Nine Inch Nails intended to take shots at her likeness.
"Here's a few receipts from some mega aggressions I've had to deal with, make myself small for, stop righteous lawsuits over, ('we are not doormats' my sponsor always quotes to me) due to male privilege in all its vile toxicity," Love began, saying that these allegations are "darn close" to a #MeToo moment for her.
Article continues below advertisement
(She also alluded to Sharon Stone's telling reaction when the actress was asked in 2018 if she's ever experience sexual harassment. "When @sharonstone was asked if she had any #metoo's, she just laughed.. We only get 1 right?")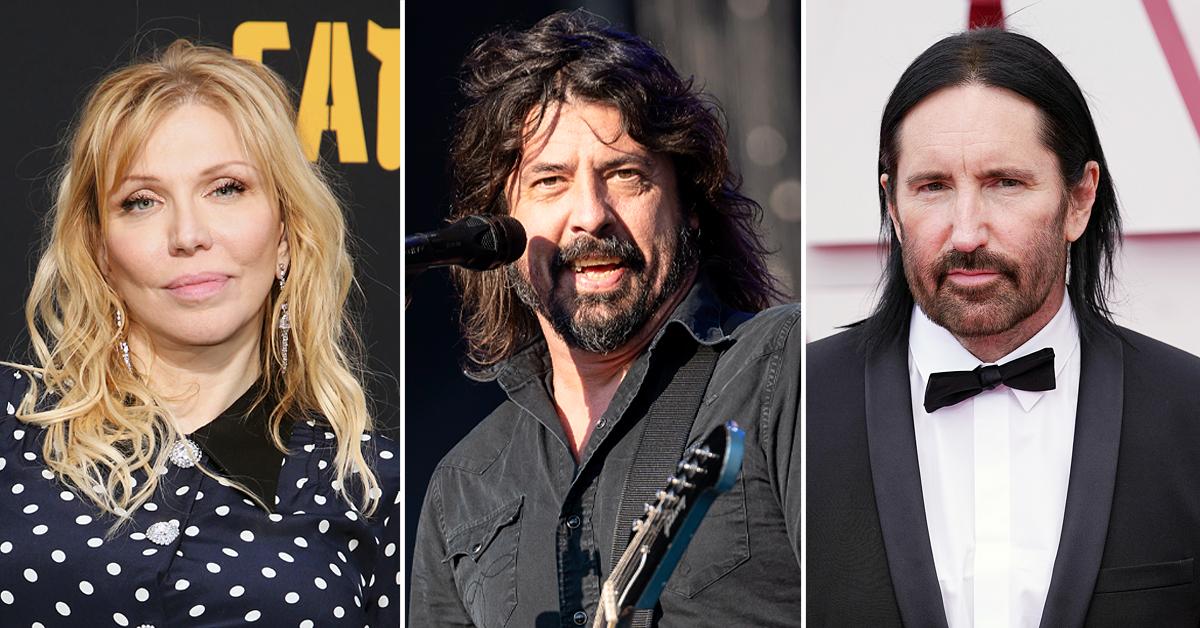 Article continues below advertisement
"I've had enough of this [s**t] from these clowns leaning into my being scapegoated for breathing, for my husband's death, for my 'overt' sexuality, because I'm an addict, etc, and a WOMAN, for over 27 years," the Hole singer — who was married to Cobain for two years before his 1994 death — wrote. (Love and Cobain share Frances Bean Cobain, now 28.)
Article continues below advertisement
Love was famously embroiled in a long-standing dispute with Nirvana's surviving members, Grohl and Krist Novoselic, over the band's finances. (In 2012, Love also accused Grohl of hitting on her daughter, which the 52-year-old denied.) The trio's quarrel seemed to end when The People vs. Larry Flynt actress took the stage with both musicians when Nirvana was inducted into the Rock and Roll Hall of Fame in 2014.
However, Love seems to be reigniting their feud, as she revealed she plans to renege on a previous agreement. "3 months before I left LA, I signed a document that effectively gives Dave (and Krist) my descendants money in perpetuity. I was so broken. So scarred, so exhausted by him, I just f***king signed it," she continued, although remaining vague on what the document in question specifically pertained to. "But it's a lie. So I'm unsigning it.
Article continues below advertisement
"Because it's nonsense. The chaos and fury over Kurt's death being directed at me, deflected by Dave, while he enriched and continues to enrich himself, gorging on Kurt's fortune and Kurt's goodwill. 27! Years!!! I've had enough. I'm over being made small. And being 'forced' to 'just drop it' when it affects every generation of my descendants," the former Babes in Toyland singer wrote. "Nicest guy in Rock ? No."
Switching gears, Love dropped an even bigger bombshell as she took aim at Reznor, writing, "HE'S talented but still a creep. I've never seen so much systemic abuse of kids, girls as young as 12, by him and his crew, we all (the members of Hole) witnessed it." However, she did not elaborate on the alleged incidents.
Article continues below advertisement
"So while these two jack asses are not my #metoo's because I'm saving my 1 up (because we only get 1) they're darn close."
Article continues below advertisement
Love concluded her scathing statement by writing, "I really hope my example of standing up to them, putting a stop to them, will prevent any other women (or men) from this soul shattering level of personal and cultural abuse in future . Sexually, spiritually, financially."
Article continues below advertisement
Noting the sex tape "destroyed my friend Pamelas life. Utterly," Love slammed James for taking part in the "f**king outrageous" project on Facebook, writing, "shame on Lily James whoever the f**k she is. #vile."
Grohl and Reznor have yet to respond to Love's allegations.