NEWS
Trump Mourns Rush Limbaugh, Falsely Claims He Won Election In First Post-Presidency Interview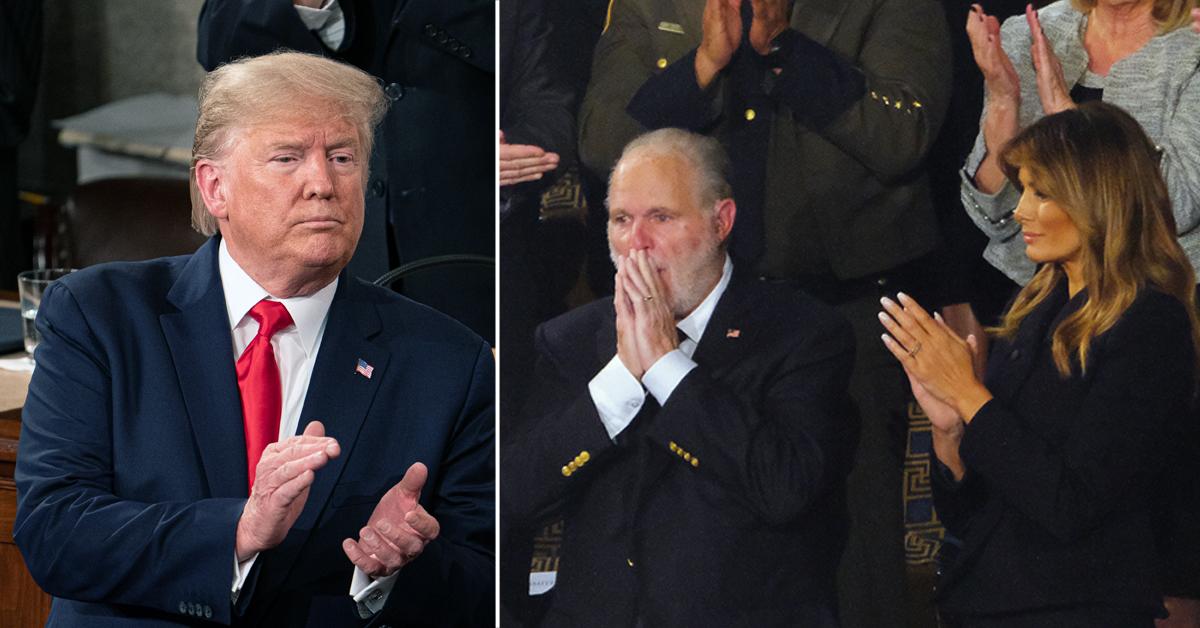 Donald Trump mourned the loss of Rush Limbaugh and his loss in the 2020 election in his first post-presidency interview on Wednesday, February 17.
Article continues below advertisement
The former commander-in-chief called into Fox News just minutes after news broke of Limbaugh's death, where he chatted with Harris Faulkner and Bill Hemmer during the network's breaking news coverage. Here are some of the highlights from that conversation.
Article continues below advertisement
Trump recalls the last time he spoke with Limbaugh
"Three or four days ago. I had called him just to find out — you know, his fight was very, very courageous, and he was very, very sick. And, you know, from diagnosis on, it was just something that was not going to be beaten. But you wouldn't know it. And he is married to an incredible woman, Kathryn, who really — every time I spoke to him, he'd — he would tell me how great she was. She took such great care.
"He was very brave. I mean, he, in theory, could have been gone four months ago, really. He just — he was fighting until the very end. He was a fighter. Yes, and just a great gentleman."
Trump on Limbaugh's talent
"Well, first of all, you know, you just had Sean on — Sean Hannity, who's incredible — and Sean would say there is nobody like Rush. Sean was the first to say that he — I used to say, well, what do you think, someday — and he'd say he's irreplaceable. Rush is irreplaceable. Unique.
"He had an audience that was massive. And, you know, he could do something, Bill and — and he would — he would get up in the show and would just talk. He wouldn't take phone calls where, you know, people would call in every two minutes, and that's sort of easy to do. He would just talk for two hours and three hours — just talk, and that's not an easy thing to do.
"And I once asked him, I said, do you study for the show? And he said, actually I study very hard — which a little bit... Harris, that a little bit surprised me. But he was a fantastic man, a fantastic talent. And people, whether they loved him or not, they respected him. They really did."
Article continues below advertisement
Trump on awarding Limbaugh the Medal of Freedom
"So, I did tell him beforehand because we didn't have the — really the power of not doing it. You know, Rush was very sick at the time. He was at a hospital in Boston, and I didn't want to do the surprise thing.
"I wish — I wish I could have done that, but we didn't really have that power of doing it, because he had — it was a very difficult thing for him to come into Washington from where he was, and he did it. And there was questions as to whether or not — he was just a very brave guy. He's amazing. And he came in, and it was — as he told me, it was the greatest honor of his life.
"And everybody in the room, you know, you're talking about the Republicans and the Democrats, you had — half of that room went crazy. You remember the evening well I'm sure. It was a very unique moment in our country's history in a sense because of who Rush is, but half went just absolutely crazy. The other half sat totally dead silent, but 100 percent of that room respected Rush."
Trump on his friendship with Limbaugh
"He was a unique guy, and he was a — he became a friend of mine.
"You know, I didn't know Rush at all. I had essentially never met Rush, and then, when we came down the escalator, he liked my rather controversial speech. I made that speech that was a little bit on the controversial side, and he loved it.
"And he was — without ever having met him or [having] talked to him or, you know, had lunch with him or that stuff, he was with me right from the beginning, and he liked what I said, and he agreed with what I said, and he was just a great gentleman — great, great man."
Article continues below advertisement
"Well, I got a call from a friend of mine who was a big Rush fan, and he said, Rush loves you. I said, I don't see that — you know, I hadn't heard, I'm not able to listen to the radio during the afternoon too much here on the trail, and you're making speeches or doing whatever you're doing. I was actually making speeches and running a business. I was doing both of them simultaneously, right.
"And he just told me that, and then all of a sudden, I started getting little transcript stuff. I would try to listen every once in a while, and he was there right from the beginning, and it was incredible.
"And then I — I guess I called him just to thank him, and we developed just some very good friendship. We played golf together a little bit. He was a very strong guy — physically very strong — hit the ball a long way. "
Trump on Limbaugh's ratings
"I've heard as many as 39 million people — you know, that's an audience that you don't hear about anymore. And I heard 39 million people.
"And I don't know if you remember, maybe three or four months ago, I did his show, and I heard they had a tremendous audience and it lasted for like a long time, the interview was like an hour, and it just went right through, and it — his questions were fascinating — I think the show was fascinating.
"He had a way of — he had an insight that few people have, just a few people have — even really good ones."
Article continues below advertisement
Trump on the election
"Well, Rush thought we won — and so do I, by the way. I think — I think we won by a — substantially, and Rush thought we won. And he thought it was over at 10 o'clock, 10:30 it was over. And a lot of other people feel that way too, but Rush felt that way strongly. And many people do, many professionals do.
"And I don't think that could have happened to a Democrat. You would have had — you would have had riots going all over the place if that happened to a Democrat. We don't have the same support in the — at certain levels of the Republican system, but we have great people as Republicans.
"But Rush felt we won, and he was quite angry about it, quite angry."
Limbaugh's widow, Kathryn, shared the news of his death with the listeners of his radio show on Wednesday. "Rush will forever be the greatest of all time," said his fourth wife.
Limbaugh transformed talk radio and politics with his show, and for his efforts he was awarded the Presidential Medal of Freedom last January. The Rush Limbaugh Show was syndicated in 1988 and still going strong, with the polarizing pundit taking home $70 million for his radio broadcasts in 2020 alone, according to Forbes. He also wrote a number of books for both children and adults, and was worth an estimated $600 million at the time of his death.