'Bones Have A Tremendous Capacity To Heal': Medical Experts Weigh In On Tiger Woods' Golf Career After Car Crash
Now that we know Tiger Woods didn't suffer any life-threatening injuries after rolling his car in a serious crash earlier this week, the question remains whether he will ever be able to play golf again.
On the Thursday, February 25, episode of The Dr. Oz Show, Dr. Oz and other medical experts break down the sports legend's condition and injuries.
Article continues below advertisement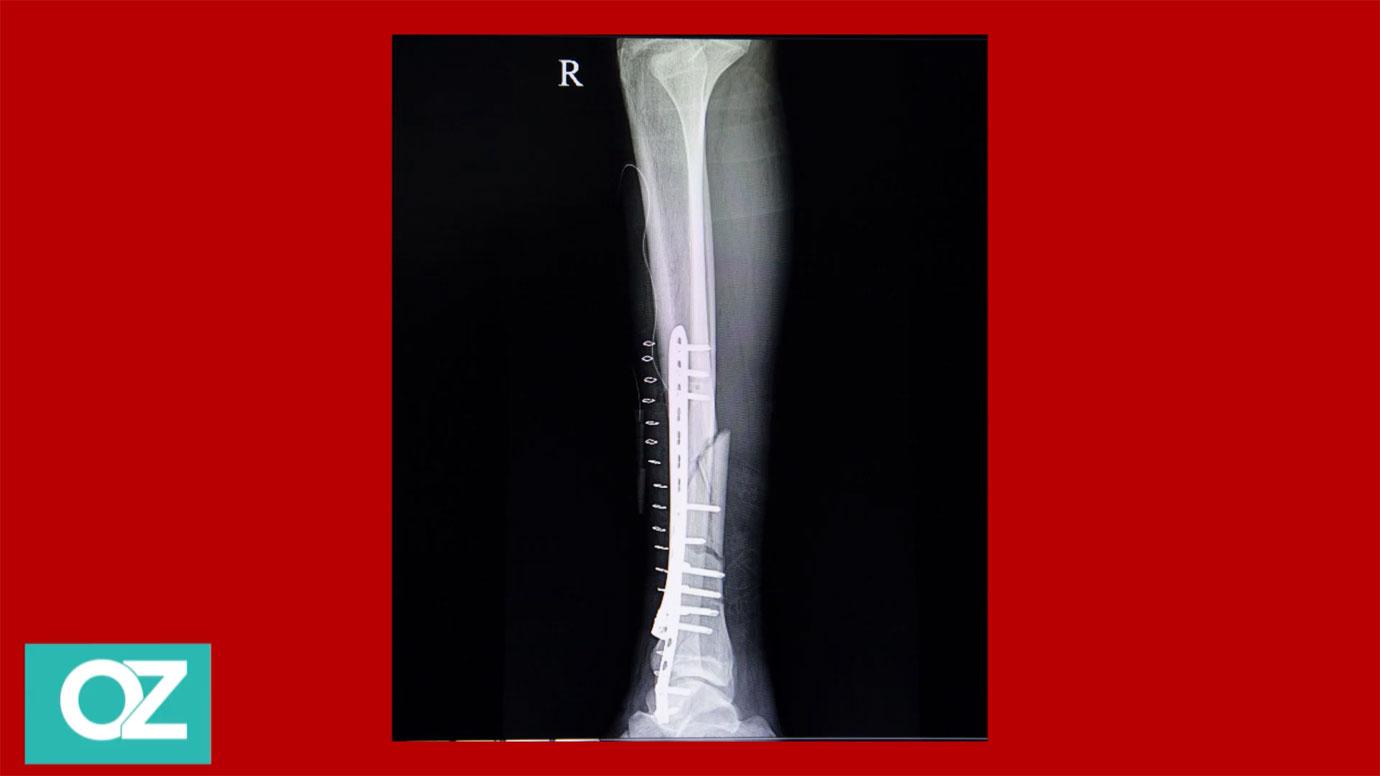 "We know that Tiger needed a rod inserted into his tibia specific to that big bone. What purpose does it serve and is that rod there premaritally?" Dr. Oz asked his guest Dr. Vonda Wright.
"Our bones have a tremendous capacity to heal, but they will not heal sufficiently if they're allowed to move around," she replied. "So, the purpose of the rod, which goes right in the center of the bone, is actually to hold the pieces together so that the body can do its work.
5 REVELATIONS FROM HBO'S NEW EXPLOSIVE TIGER WOODS DOCUMENTARY: FROM HIS CHILDHOOD TO RACHEL UCHITEL AFFAIR
"Now in the X-ray that you showed, they chose to secure the tibia with a plate, what the doctors at UCLA has used is a rod, and it's just what it sounds like — a piece of metal that goes down the center in the hollow place of the bone, and it will hold the bone together so that Tiger's own cells can heal it," she continued.
Article continues below advertisement
Dr. Oz also consulted with Dr. Sampson Davis about the 45-year-old's mental state at the time of his accident.
"The first thing you want to evaluate is he's conscious, and based upon the sheriff's report he was in good spirits, he was unaware of the magnitude of the injury he sustained," said Dr. Davis. "Also, what we check on is there any alcohol on the breath and is there any suspicion of drug use, and from what the sheriff's office relayed is he appeared to be conscious, sober, not under the influence, but totally unaware of how damaged his legs were."
Article continues below advertisement
Just after 7 a.m. on Tuesday, February 23, LASD responded to a single vehicle rollover traffic collision on the border of Rolling Hills Estates and Rancho Palos Verdes near Los Angeles. The car was traveling northbound on Hawthorne Boulevard, at Blackhorse Road, when it crashed and sustained major damage.
The Sheriff's Department said that the athlete was the sole occupant of the vehicle, and when a sheriff's deputy first arrived on the scene, he found Woods still in the driver's seat, wearing his seatbelt and appearing "lucid" and "calm."
Article continues below advertisement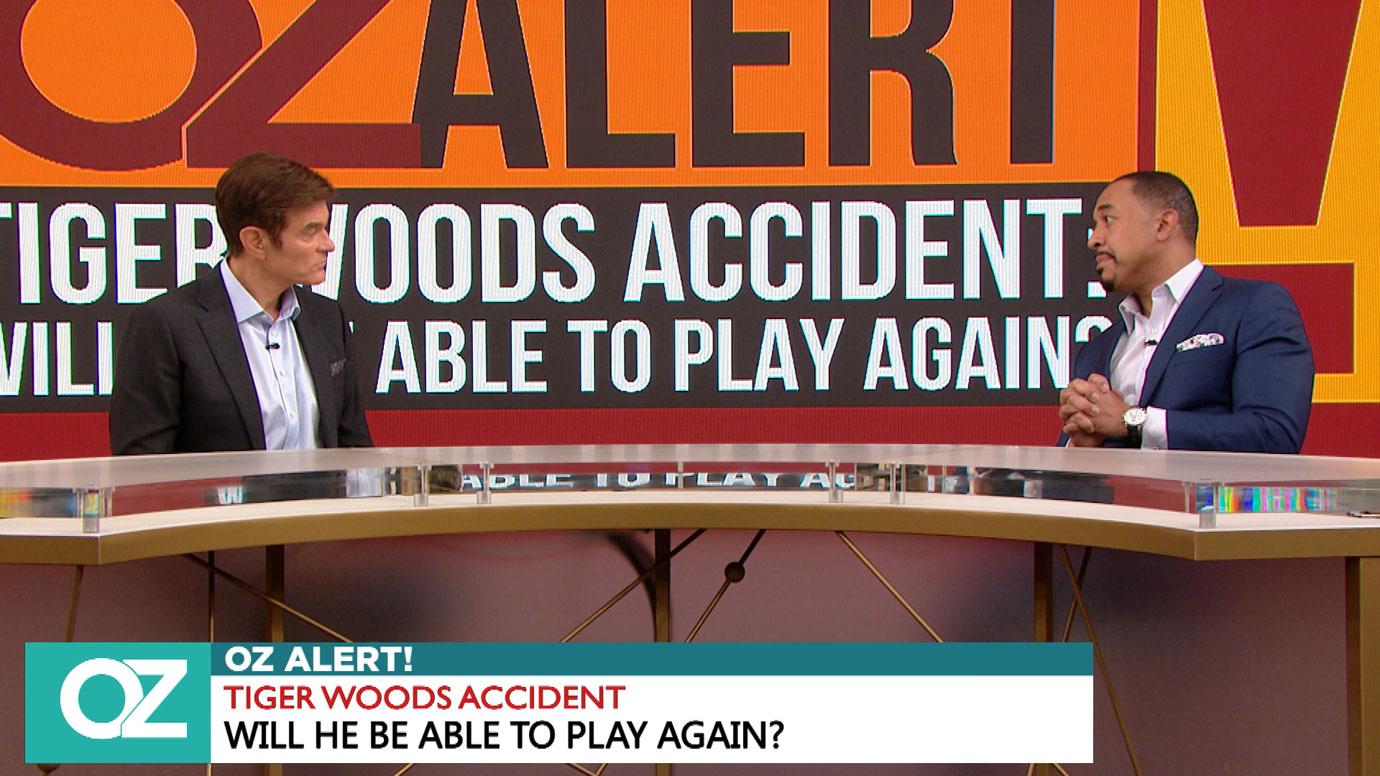 Authorities initially said that Woods had to be extricated from the vehicle using the "jaws of life" tool by Los Angeles County firefighters and paramedics, but it was later clarified that an ax was used to remove him from the wreckage.
He was then transported to Harbor-UCLA Medical Center by ambulance where he was immediately rushed into surgery, law enforcement sources said.
Article continues below advertisement
Later that night after, Woods' team late posted an update on the his official Twitter account, saying "he is currently awake, responsive, and recovering in the hospital room."
The statement also quoted Dr. Anish Mahajan, chief medical officer and interim CEO of Harbor-UCLA Medical Center, confirming that Woods "suffered significant orthopaedic injuries to his right lower extremity that were treated during emergency surgery by orthopaedic trauma specialists at Harbor-UCLA Medical Center."
"Comminuted open fractures affecting both the upper and lower portions of the tibia and fibula bones were stabilized with a combination by inserting a rod into the tibia," Mahajan said. "Additional injures to the bones and of the foot and ankle were stabilized with a combination of screws and pins."
No official cause of the crash has been cited, but authorities have ruled out that drugs or alcohol were involved in any way.
JUSTIN THOMAS, JADA PINKETT SMITH, LNDSEY VONN, MORE REACT TO TIGER WOODS' HORRIFYING ROLLOVER CAR CRASH
"Deputies at the time they did not see any evidence of impairment," said Los Angeles County Sheriff Alex Villanueva at a press conference. "He was alive and he was conscious, and that's the extent of that. What we're (sic) at is signs of under the influence of either narcotics, medication, alcohol, order of alcohol, all these different things that would give you an idea in their behavior, but there was none present."
Sheriff Villanueva has also said that the 15-time major champion will not face criminal charges over the incident and that the crash was "purely an accident."