Federal Grand Jury Rules On Four Former Minneapolis Police Officers In George Floyd's Death
Article continues below advertisement
Two of the other officers, Tou Thao and J. Alexander Kueng, were also charged for their failure to intervene in Chauvin's unreasonable use of force, the indictment read.
Article continues below advertisement
According to the court documents: "Defendant Chauvin continued to hold Floyd to the ground even after Floyd became uffesponsive, and [Thao and Keung] willfully failed to intervene to stop Defendant Chauvin's use of unreasonable force."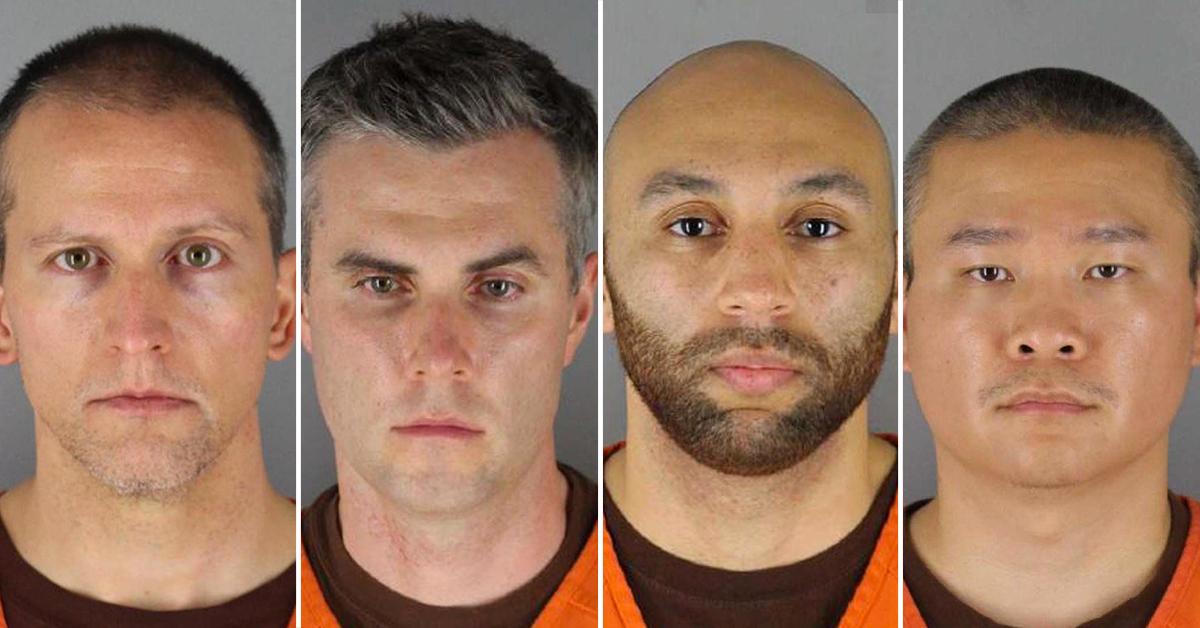 Article continues below advertisement
Additionally, Chauvin, Thao, Kueng and the fourth officer, Thomas Lane, all reportedly face a charge for failing to provide Floyd with medical aid after Chauvin — who had 18 complaints filed against him with the Minneapolis Police Department's Internal Affairs — knelt on Floyd's neck for nine minutes and 29 seconds.
Article continues below advertisement
"The defendants saw George Floyd lying on the ground in clear need of medical care, and willfully failed to aid Floyd, thereby acting with deliberate indifference to a substantial risk of harm to Floyd," according to the indictment.
Thao, Kueng, and Lane were at the scene when Chauvin knelt on Floyd's neck while the 46-year-old, who was handcuffed and lying face down, gasped for air, telling the officers: "I can't breathe."
Article continues below advertisement
The three officers are also facing state charges of aiding and abetting second-degree murder and aiding and abetting second-degree manslaughter. During their hearing, Thao, Kueng, and Lane pleaded not guilty. Their joint trial is expected to be held this summer.
During their federal court hearing via video conference, the former officers were released on $25,000 bond. Meanwhile, Chauvin remains in custody and is awaiting sentencing on state convictions in June.
Article continues below advertisement
Chauvin was also charged for a separate indictment related to a September 2017 incident, where he used unreasonable force on a 14-year-old boy from Minneapolis.
According to the first count of the indictment, it said Chauvin "held the teenager by the throat and struck the teenager multiple times in the head with a flashlight," per the DOJ statement. The second count said he "held his knee on the neck and the upper back of the teenager even after the teenager was lying prone, handcuffed, and unresisting, also resulting in bodily injury."
Article continues below advertisement
Last month, Chauvin was found guilty on all three charges: second-degree unintentional murder, third-degree murder and second-degree manslaughter, in relation to Floyd's death.
Article continues below advertisement
He could face up to 40 years behind bars for second-degree murder, up to 25 years for third-degree murder and up to 10 years for second-degree manslaughter; the sentencing will take place next month.
On Tuesday, May 4, Chauvin filed a motion for a new trial, claiming the pretrial publicity affected Chauvin's right to a fair trial. In addition, the court denied requests for a new venue and change of venue, according to the ex cop's attorney Eric Nelson, who filed the four-page document.