NEWS
Revealed At Last: Bill & Hillary Clinton Funded Accused Child Molester Ghislaine Maxwell's Charity — Despite Connections To Pedo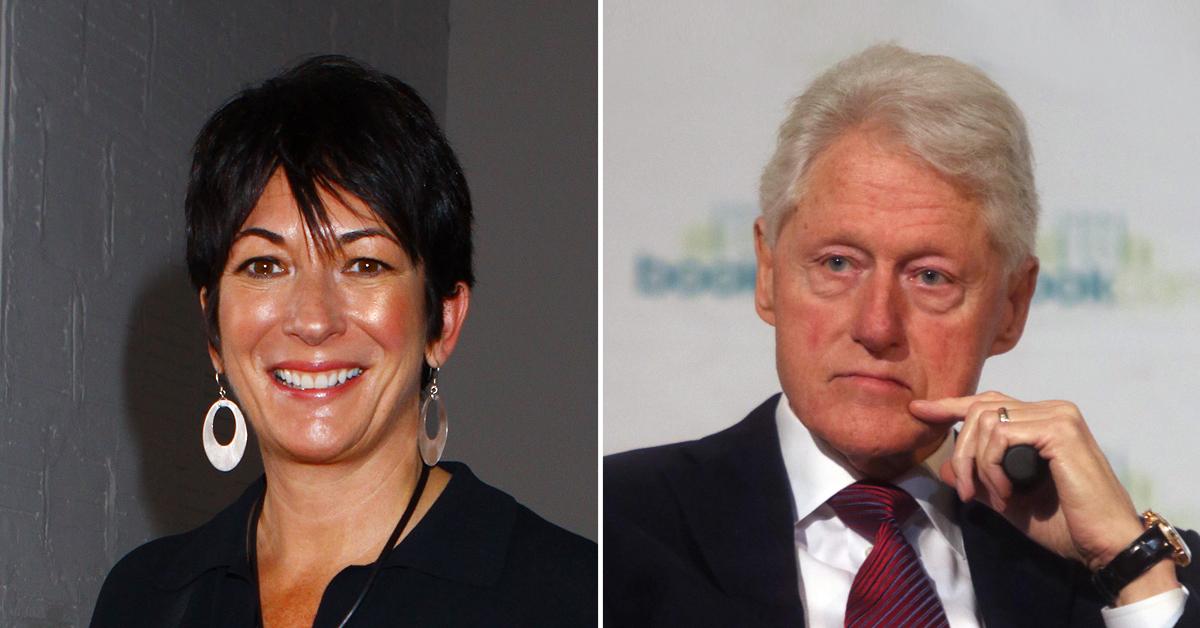 Ghislaine Maxwell received critical funding for the charity she launched in 2012 from The Clinton Foundation, suggest newly unsealed documents. OK! has obtained a protective order filed in August 2016, in which Maxwell and her attorney argued some aspects of her finances should be off-limits, including how much money The TerraMar Project might have got from Bill and Hillary Clinton as an example.
Article continues below advertisement
"The requests seek literally every piece of financial information about Ms. Maxwell for a two year period ... to organizations in which Ms. Maxwell may be involved, such as the 'TerraMar Project or any other not-for-profit entities with which [Maxwell is] associated, including but not limited to, funding received from the Clinton Global Initiative, the Clinton Foundation (a/k/a William J. Clinton Foundation, a/k/a/ the Bill, Hillary & Chelsea Clinton Foundation), and the Clinton Foundation Climate Change Initiative,'" reads that filing.
Article continues below advertisement
Even more crucial than funding was the credibility that the Clintons lent to the organization when in 2013 they partnered with Maxwell, announcing the news in a press release at the time. "In 2013, the TerraMar Project committed to launch the Sustainable Oceans Alliance (SOA) to mobilize the international community and the public at large on the importance of the Oceans and the Seas and to ensure that the 193 UN Member States recognize and incorporate oceans in the Sustainable Development Goals (SDGs), to be adopted in 2015."
Article continues below advertisement
Maxwell launched the TerraMar Project in 2012, two years after attending the wedding of Chelsea Clinton. She attended the wedding as the guest of Ted Waitt, her boyfriend at the time and the founder of Gateway Computers. Maxwell was also close with Bill and even closer to his longtime adviser, Doug Band, because of her time with Jeffrey Epstein.
Victims had already accused Maxwell of recruiting and then pimping them out to Epstein long before she launched the foundation. In 2008, a Priscilla Doe described in a lawsuit how Maxwell groomed her to operate as a sex slave who could respond to any of the demands made of her by Epstein. That victim was only 14 or 15 at the time she was recruited by Maxwell.
Article continues below advertisement
This newly unsealed document is from the libel case filed against Maxwell by another victim — Virginia Roberts. It was Roberts whose testimony and evidence caused various law enforcement agencies to further investigate Epstein and Maxwell. A great deal of that evidence was photos, which Maxwell and others have long tried to claim are fake.
Article continues below advertisement
"Epstein took me on a ferry boat on one of the trips to New York City and there he took the picture above. I was approximately 15 or 16 years old at the time," she wrote of the first of many photos she would later give to the FBI. In that picture, Roberts looks years younger than her age as she smiles for the camera while on an unchaperoned trip with Epstein and Maxwell over 1,000 miles away from home.
Roberts revealed she was raped by Epstein and assaulted by Maxwell on that same trip. This had already been occurring for some time by then, having started in Palm Beach after Maxwell recruited the teenager at Mar-a-Lago, where she was working at the time. "Over the next few weeks, Jeffrey Epstein and Ghislaine Maxwell trained me to do what they wanted, including sexual activities and the use of sexual toys," stated Roberts in previously unsealed documents.
"The training was in New York and Florida, at Epstein's mansions. It was basically every day and was like going to school. I also had to have sex with Epstein many times," she noted. Roberts said that she was trained to be "everything a man wanted me to be." The photos that were used by Roberts made it clear that she was with Epstein and Maxwell in Paris, Cannes, London, New Mexico and the Virgin Islands.