EXCLUSIVE
Police Visit Kellyanne Conway On Inauguration Day After Daughter Claudia's Abuse Claims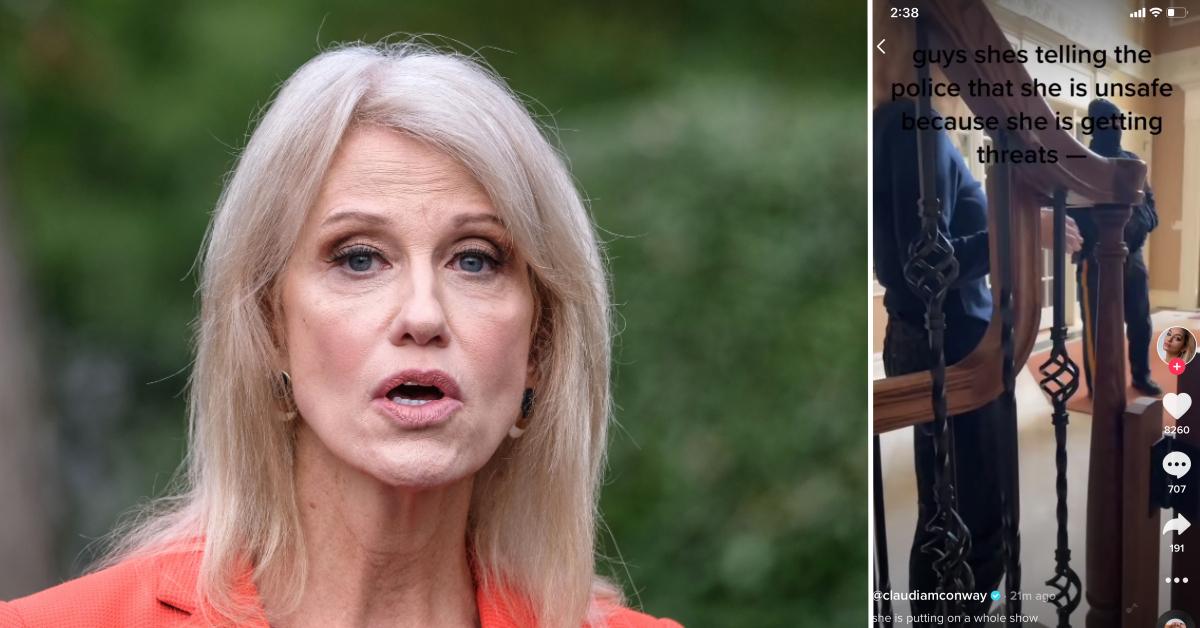 Kellyanne Conway spent Inauguration Day speaking with police officers in New Jersey after her daughter Claudia posted a video to TikTok claiming her mother was abusive. In the video, Donald Trump's former campaign manager is seen speaking with two officers, one of whom suggests that she shut off Claudia's internet and turn off her phone.
Article continues below advertisement
Article continues below advertisement
Claudia had posted a series of messages on TikTok Tuesday night which detailed the alleged abuse. One video featured a woman she identified as her mother saying: "F**k you, f**k you. It's over, it's over — I don't care who's following you, dumba**." That same woman can later be heard saying: "I can get you taken out of here today. You don't f**king listen — what the f**k is wrong with you?"
Article continues below advertisement
Claudia later said she was visited by officers while she was home alone on Tuesday night, she said, and informed them that she did not feel she was in any immediate danger. That appears to be why they returned to check up on her Wednesday. It is also worth noting that it based on Kellyanne's appearance in the videos, she did not attend her former boss' send-off soiree at Joint Base Andrews.
Article continues below advertisement
"She's probably going to publicly say that she's not abusive and whatnot, but that's what manipulators do and narcissists," noted Claudia in one video. "I'm not looking for attention. I'm not looking for anything. I'm in a situation that's really physically, mentally and emotionally abusive and I think it's important that everybody sees that."
Claudia also stated that she was being truthful and did not appreciate media coverage that painted her as a "rebellious teenager" or suggested her concerns were not legitimate. "They like to call me a rebellious teenager, or whatever, who's making up s**t, but I'm not. I'm not making up anything I'm just telling my side of the story and showing what I have and I'm not trying to cause anything. I just think it was important to make that public."