NEWS
Kellyanne Conway's Daughter: My Dad Walked Out, He 'Wants Nothing To Do With Our Family'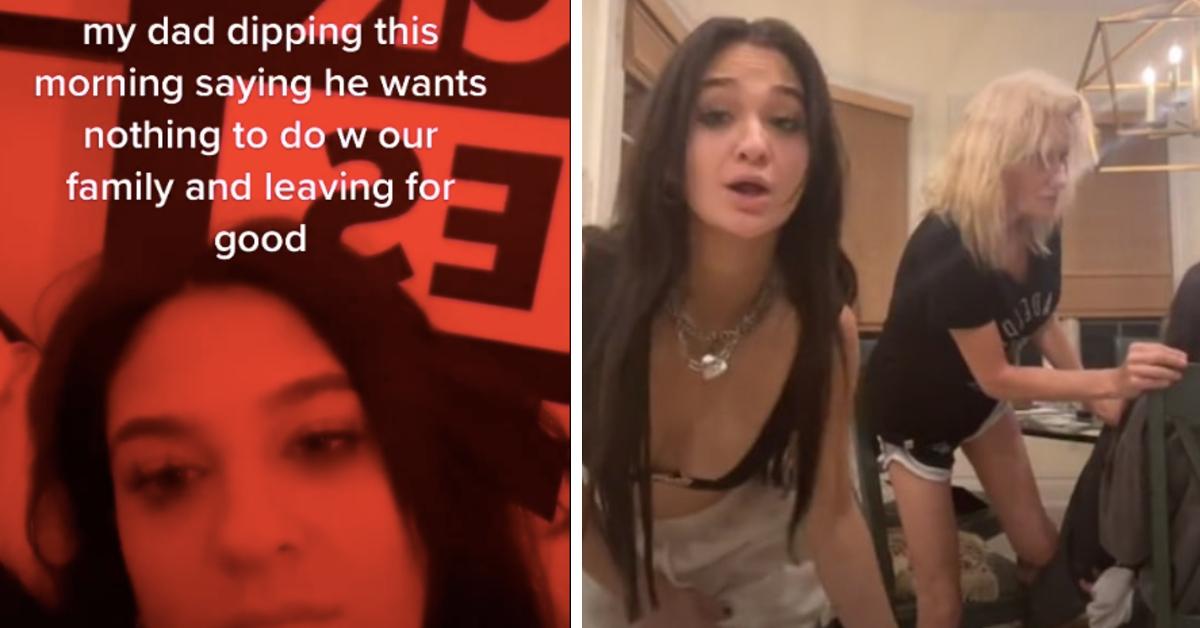 Family trouble! Kellyanne Conway's daughter Claudia Conway is spilling all the tea as to what goes on inside the Conway home. In a series of very revealing TikToks, the 16-year-old claimed that her father, George Conway, had walked out on the family.
Article continues below advertisement
Article continues below advertisement
"my dad dipping this morning saying he wants nothing to do with w our family and leaving for good," she wrote in the clip.
She then responded to a fan's comment who said they hadn't seen George in a while, to which Claudia responded, saying, "yeah me neither lol."
George has been very vocal about his views on Trump, having taken to Twitter on January 10 to slam Congress for not impeaching the president.
He wrote, "If Congress can't impeach a president for violating—indeed, inverting — the core duty set out in his oath of office — to preserve, protect and defend the Constitution of the United States—then what's the point of impeachment?"
Article continues below advertisement
The family drama hasn't stopped. In another recent video, Kellyanne became the laughingstock of social media when her daughter decided to troll her mother by dancing to a Donald Trump diss track on the social media platform.
In the clip posted on Thursday, January 7, Claudia stands near her mom and begins singing and dancing to a song with the lyrics, "Well, Joe Biden is my president it's time to get crunk, so I guess that I'll just piss on Donald Trump."
Kellyanne looked incredibly uncomfortable before noticing the dance was being recorded with her in the frame, leading the former Trump counselor to roll her eyes and abruptly exit the scene looking anything but pleased.
INSIDE THE EXPLOSIVE WHITE HOUSE COVID-19 CRISIS — EVERYTHING WE KNOW
Article continues below advertisement
From a different camera angle, Claudia then struts past her phone in slow motion while the explicit song continues playing in the background.
"kelly saw the camera and dipped. bout to get grounded and get cps called on me but it's worth it i'm a savage," Claudia wrote in her caption of the post, which has already amassed a whopping five million views on the social platform.
CELEBRITIES WHO HAVE HAD CORONAVIRUS – STARS EXPLAIN THEIR EXPERIENCES WITH THE COVID-19
Article continues below advertisement
Claudia has been feuding with her mother for months, and it seems their relationship is still frosty if fans were to go off on what the teenager said in another TikTok video on January 6.
"Hey mom, it's Claudia," she began.
"If you're watching this, I don't know where you are, you might be downstairs, upstairs, wherever, I haven't seen you in a little bit.
"How do you feel about your army becoming rioters, because I remember when I was going to protest in the summer you weren't too happy with it, so how do you feel? I'm just wondering."
But Claudia wasn't done yet. She then discussed the Democrats winning two Senate seats in Georgia, which was sure to have left her mother furious.
WAS JAMIROQUAI'S JAY KAY AT THE U.S. CAPITOL RIOT IN WASHINGTON? SEE THE PHOTOS
Article continues below advertisement
"Also how do you feel that your party lost yesterday because I know you went to Georgia a few days ago to help campaign," Claudia asked. "How do you feel?'"
She concluded, "Have you talked to your friend Mitch, the Senate majority — I mean minority leader. How does he feel? Anyway mom if you see this, come to my room, let's talk, let's talk it out. Let's have a nice discussion."
Kellyanne stepped down from her role as Senior Advisor in August 2020 after a series of public spats with her daughter, who accused her mom of only serving the president for "money and fame." She's also been at war with her husband after he came forward and shared his not-so-nice thoughts about Trump on a number of occasions.
Before Kellyanne left her position at the White House last year, Claudia had told fans on Twitter that she was "seeking emancipation" from her parents, but it seems that her mother leaving her job was more than enough to keep the teen to remain at home — at least for now.