NEWS
Kim Kardashian, Travis Barker 'Never Had A Romantic Relationship' Despite Shanna Moakler Claims, Sources Say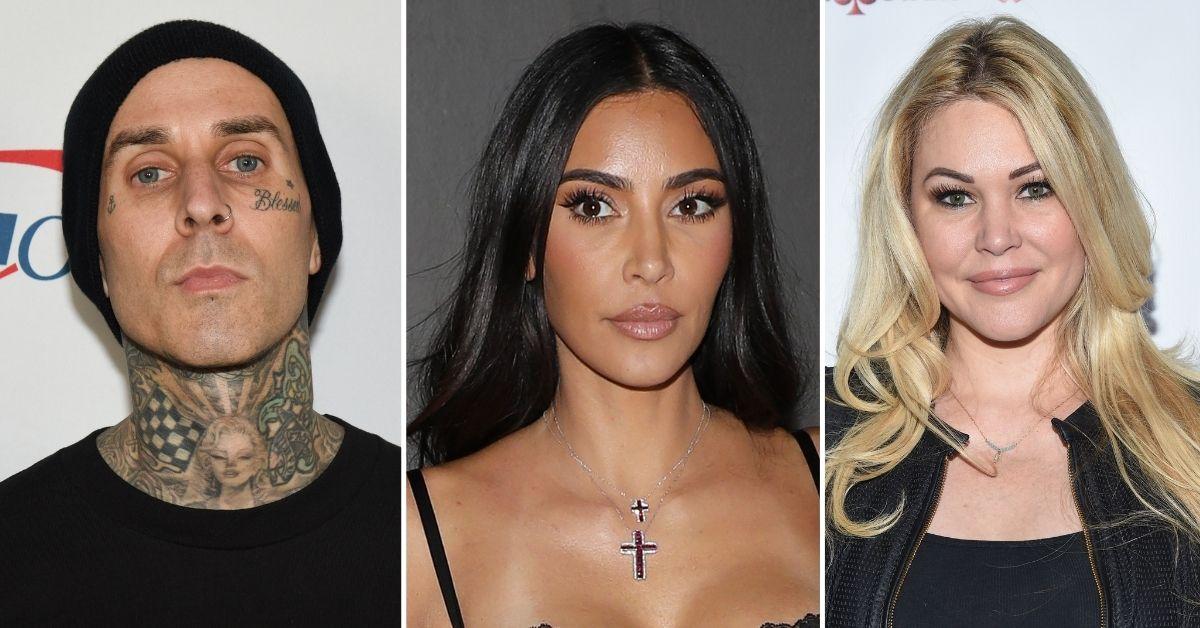 Article continues below advertisement
"Travis and Kim have never had a romantic relationship," a source close to Kim said. "They were friends who met through Paris Hilton and that is also how Kourtney and Travis were introduced."
The rumors began when Moakler and Barker's daughter, Alabama, shared a screenshot of a message allegedly penned by Moakler on a since-removed Instagram Story. In the message, Moakler claimed to have "divorced Travis because I caught him having an affair with Kim! Now he's in love with her sister…It's all gross…I'm not the bad guy!"
Article continues below advertisement
Moakler also alleged in the message that she "left Travis because he was emotionally abusive," feels she "can't compete with kids whose father doesn't encourage relationships with their own mother and purposefully tries to alienate them away," and alleged that Barker "controls" Alabama's social media but "I get blamed for her sexualition [sic] ! How does a father allow her to act like that and do lives at 4am? With Men twice her age."
Article continues below advertisement
The 15-year-old blasted her mom in the caption. "Everybody thinks my mother is amazing , Matthew [Rondeau] is nothing but awful to her not only that but he cheats on her , My mom has never completely been in my life , can you guys stop painting her out to be an amazing Mom. Did your moms ask to see you on mother's day cause mine didn't? I'm done keeping it a secret, reality shows," she wrote.
"It's a shame that she continues to spread lies because she is clearly bitter her ex is happy and has moved on," another insider said. "It's extremely hurtful to her kids how she is behaving. Hopefully she gets the help that she needs and can eventually find happiness."
Article continues below advertisement
Barker previously told Us Weekly that he thought Kim was "eye candy" when they met. "How could you not stare at Kim?" he told the outlet in 2015. "Mind you, I enjoyed hanging out with Paris, but I love curvy girls. I was no way disrespectful to Paris, but I couldn't keep my eyes off Kim!"
MORE ON:
Kourtney Kardashian
Article continues below advertisement
However, a source close to the 45-year-old said he was "joking."
"Anyone who is close to them has always known that Travis has been in love with Kourtney for forever [not Kim]," the source explained. "They are madly in love and best of friends. Everyone in their circle couldn't be happier for them."
Article continues below advertisement
"There is nothing weird or any drama here," the insider added as Kourtney and Barker have 15 years of friendship behind them and are "extremely happy."
Meanwhile, Barker and Moakler's son, Landon, also reportedly blasted his mom. "Actually, if you weren't such a dumbass, you would realize our mom has never been in our lives and isn't in our lives like our dad is," the 17-year-old reportedly replied to a TikTok user who claimed he was siding with his dad.
Article continues below advertisement
Travis and Kourtney got together earlier this year. He married Moakler in 2004 before they split in 2006 and finalized their divorce in 2008.
Page Six was the first to report that Barker and Kim did not have an affair.