STYLE
Lil Nas X Slays The Red Carpet At 2021 BET Awards In Andrea Grossi Gown, Richard Quinn Crystal Suit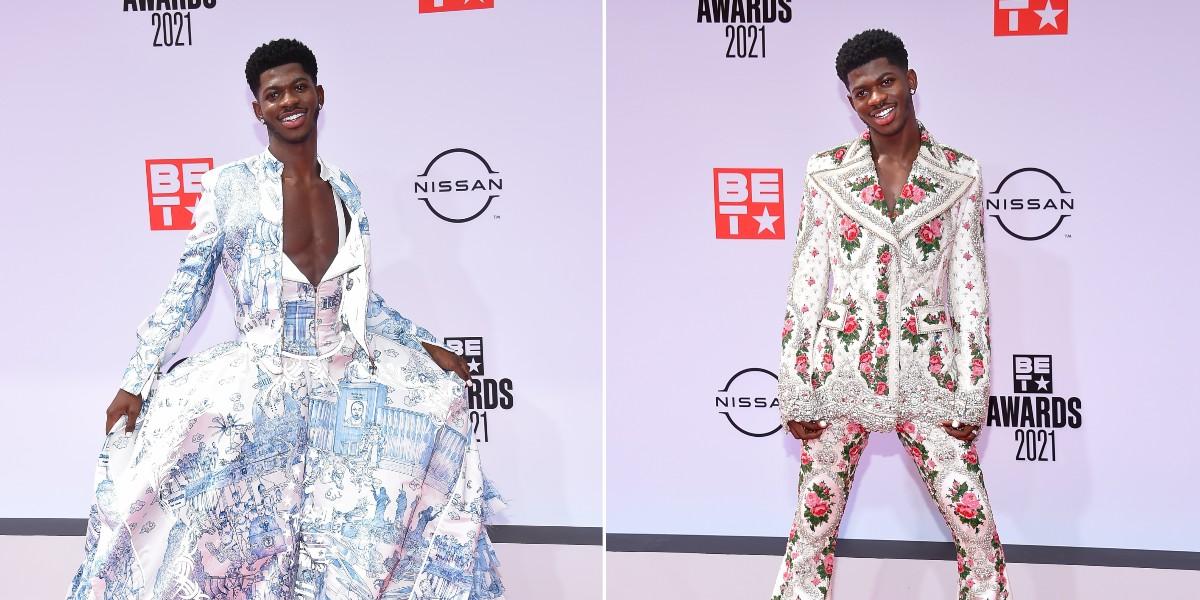 Article continues below advertisement
The "Old Town Road" rapper arrived in a breathtaking Andrea Grossi look that featured a whimsical structured skirt, corset and jacket, which the singer paired with a pair of white suspenders. The blue and white toile-inspired gown, which was covered in illustrations alluding to war and religion, hailed from the young designer's "Welcome to Deusland" collection, a phrase that was also written across several sections of the gown.
Article continues below advertisement
Grossi told Berlin-based magazine Kaltbult that his 2019 collection was intended to "bring light to the problems of the 21st century" and to critique political and religious ideologies that "have led the populations for a long time in (the) wrong way."
Article continues below advertisement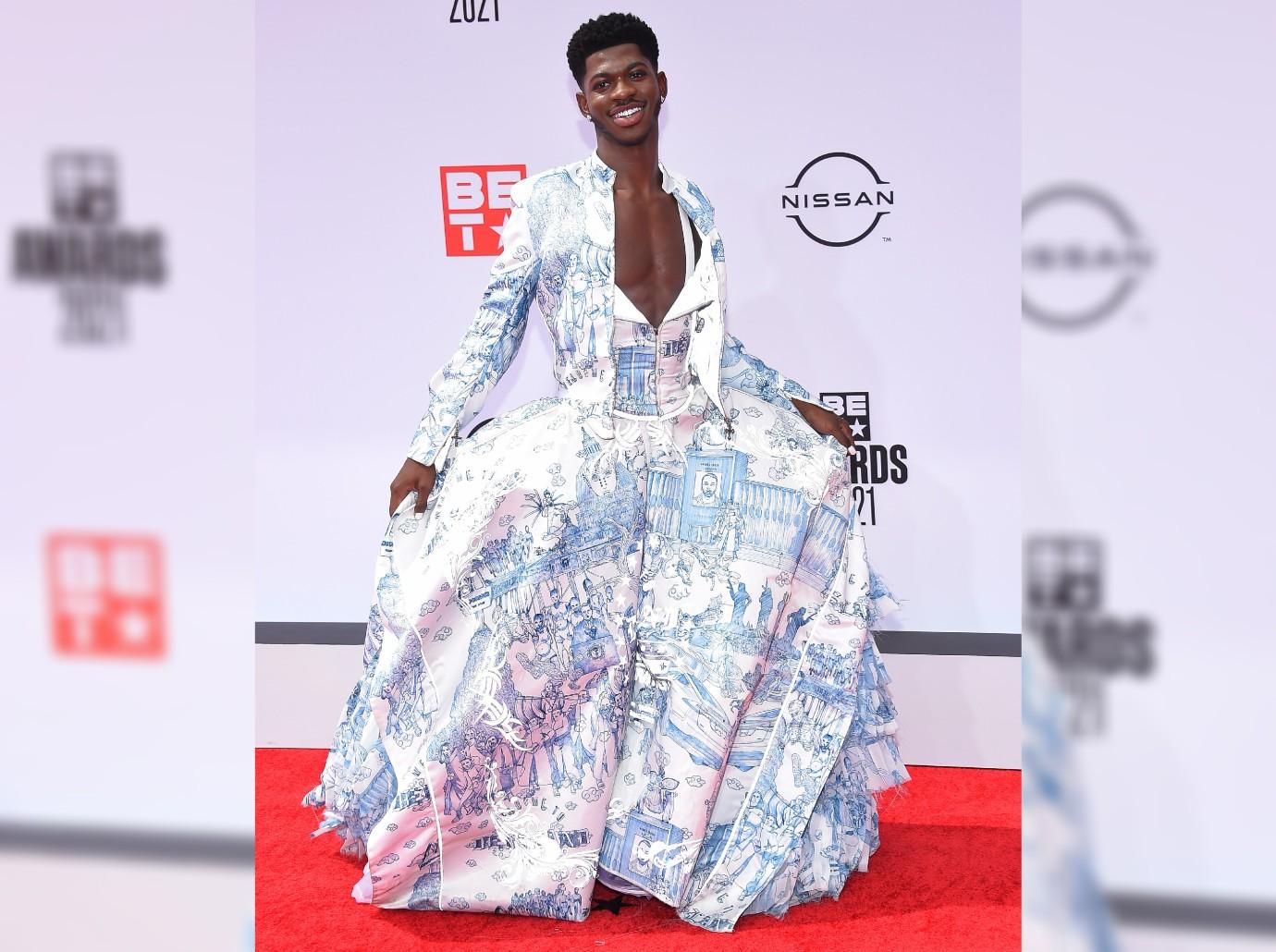 But the openly gay artist, real name Montero Lamar Hill, wasn't done wowing on the red carpet. He changed into a crystal and beaded embroidered suit from Richard Quinn's Fall-Winter 2021 collection, featuring a cool pink floral pattern and '70s-style flared pants.
Article continues below advertisement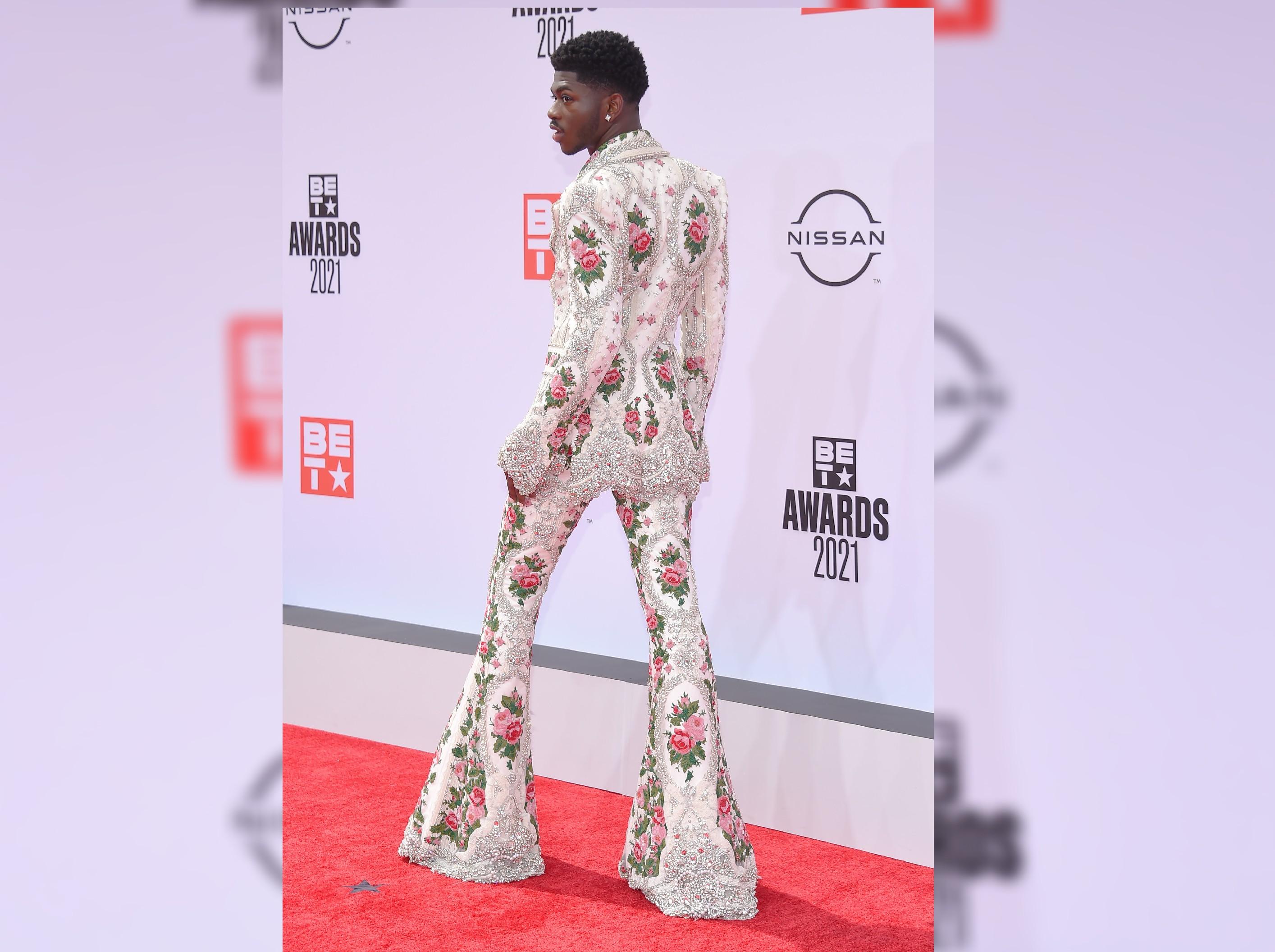 The 22-year-old later took the stage for a jaw-dropping performance of his hit single "Montero" wearing a third look which was a gold outfit that included a snake circlet, oversized collar and skirt. At the end of his performance, he boldly made out with a male dancer to which the crowd went wild for. The headline-making move was particularly fitting, as June is Pride Month.
Article continues below advertisement
Article continues below advertisement
On June 30, 2019, the last day of Pride Month, Nas X came out publicly as gay, tweeting: "Some of y'all already know, some of y'all don't care, some of y'all not gone fwm no more. but before this month ends i want y'all to listen closely to c7osure. 🌈✨" The tweet confirmed earlier suspicions when he first indicated that the track "touches on themes such as coming clean, growing up and embracing one's self."
He was unambiguous in an interview several days later on BBC Breakfast, where he stated that he was gay and understands that his sexuality is not readily accepted in certain music communities.
Article continues below advertisement
"I was like I don't just want to live my entire life, you know, not doing what I want to do," he revealed in July 2019. "I want them other gay people to feel more comfortable pretty much. Especially within the country and hip hop communities."
Looks like Nas X has the last laugh now!