'I Got Drunk, I Got Sloppy': Madison LeCroy Admits She's 'Embarrassed' After Flashing Her Breasts On Instagram During Wild Night
Talk about showing off your Southern Charm! Reality star Madison LeCroy had a wild night over the weekend — so much so, she told her Instagram followers that she was completely "embarrassed" by the whole thing.
Article continues below advertisement
In a video posted to her Instagram Story on Monday, June 29, the 30-year-old — laying down in a baseball cap and sweater — told her followers, "Yes, I feel awful. Embarrassed. Drunk. Still. Last night was not my best."
According to reports and fan accounts, the TV personality went live on social media at least 16 times — and allegedly gave her fans a free show by flashing her breasts.
Article continues below advertisement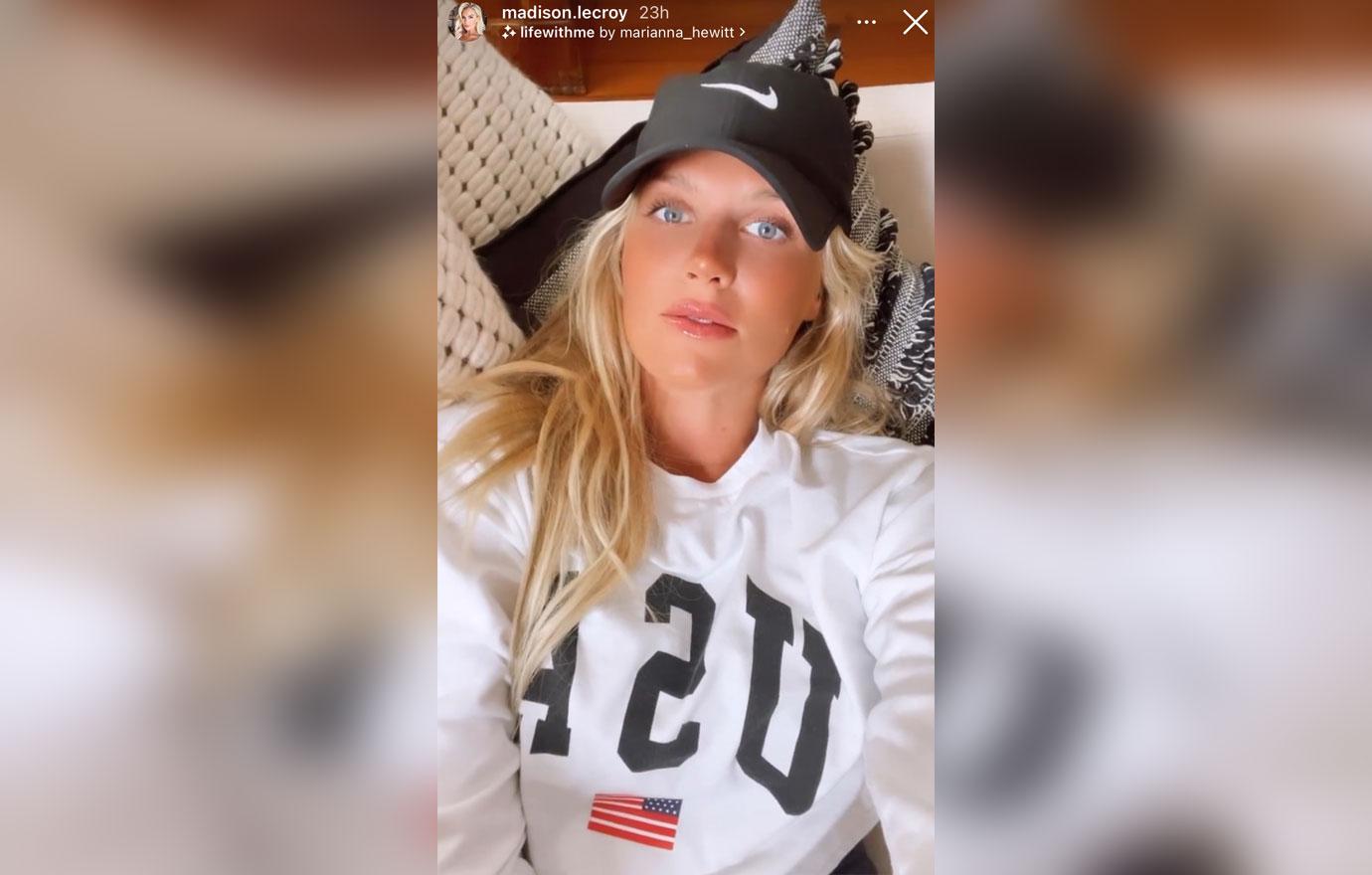 Article continues below advertisement
"I had a good time, clearly. I just noticed that my boobs were out, all over the internet, but hey! Is that the first time you've ever seen some t*ts before? Like, give me a break y'all," she told followers following the incident, lifting up her sweater to show her undergarments.
"I got drunk, I got sloppy. Forget about it, why are you so worried? It's my life. … It's my f**king page, I do what I want to do. Worry about yourself."
Article continues below advertisement
LeCroy certainly has no qualms about showing off her assets: Earlier this year, the star posted a topless photo to Instagram, and opened up about going under the knife.
"Plastic surgery. Two words I hadn't given much thought to. I never thought I would need, much less want, plastic surgery. However, after giving birth to an 10lb baby eight years ago, I no longer felt confident in my own skin," she wrote on February 13.
Article continues below advertisement
"Recently I was introduced to Dr. Patrick O'Neill and he gave me my confidence back and transformed the parts of my body that I was most self-conscious about. Women should never be shamed for doing anything that makes themselves more confident or love themselves more. If it makes you feel better about yourself, do it! If your sister, mother, daughter or friend is considering doing something to boost their confidence and self-worth, then support them!"
The reality star seems happier than ever in recent days. After being caught in the middle of Jennifer Lopez's breakup from Alex Rodriguez — LeCroy was said to be DM'ing the former baseball pro while he was still engaged to the Latin superstar — she has finally moved on from all of the drama.
Article continues below advertisement
Article continues below advertisement
The Bravolebrity explained that the two unexpectedly met while on a trip with pals. "A little over two months ago I was visiting Scottsdale, Arizona, with a bunch of my girlfriends for a Bachelorette party. He was there for a friend's birthday party," the blonde beauty said of their chance encounter.
"I did not know him at this time, but I go into this bar and we immediately lock eyes from across the room. It was, like, instant. And I mean you really can't miss him," LeCroy gushed, adding, "He's absolutely stunning."