COUPLES
'We Fell In Love Instantly': 'Southern Charm' Star Madison LeCroy Opens Up About Meeting New Boyfriend, Says He Met Her Son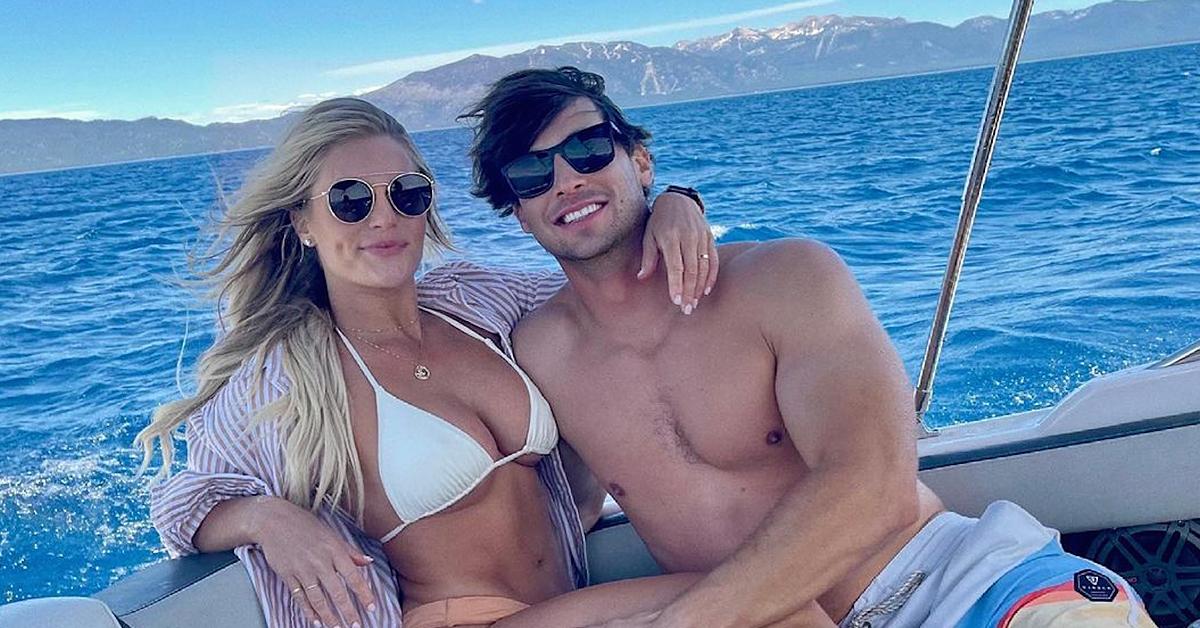 An instant connection. Southern Charm star Madison LeCroy is spilling all of the tea about how she met and fell in love with her new boyfriend, whose name she is choosing to keep private at the moment.
Article continues below advertisement
The Bravolebrity explained that the two unexpectedly met while on a trip with pals. "A little over two months ago I was visiting Scottsdale, Arizona, with a bunch of my girlfriends for a Bachelorette party. He was there for a friend's birthday party," the blonde beauty said of their chance encounter.
"I did not know him at this time, but I go into this bar and we immediately lock eyes from across the room. It was, like, instant. And I mean you really can't miss him. … He's absolutely stunning," the 30-year-old hairstylist continued.
Article continues below advertisement
"We lock eyes instantly and the bride says, 'Hey, let's go across the street.' And I'm thinking in my head, 'Oh, my God. Damn it, I wanted to talk to that guy,' but I wasn't going to walk up to him."
Article continues below advertisement
But when some friends needed to use the restroom, she stayed behind to wait for them. "The next thing I know I see him, like, b-lining [toward me] and I'm talking at a fast pace and I'm looking at my friend like, 'What is this guy about to do? Like I'm nervous.' Yes, he makes me very nervous. And he comes up to me and he's like, 'What is your name? I've got to take you out. I need your number. I've got to see you again," she recounted.
LeCroy made the decision to give him her number — but with a challenge. "I said, 'You can take me out, but you'll have to take me out in Charleston, South Carolina.' And he says, 'I'm fine with that. When are you available?'" she explained.
Article continues below advertisement
It seemed as if her new man was more than willing to make the trip for her. "So then, Sunday I fly back to town, and he sends me a video and he goes, 'Charleston is beautiful. The weather is great here.' And I'm, like, 'No f**king way did this guy just show up here.' So, you know me and all my gays, we start doing background checks and we start running his number and making sure he's not a serial killer or anything," she said.
Only a day later did the two meet up for their first date and, according to the mother-of-one, they both "feel in love instantly" and have "been together pretty much non-stop since then." Even though the two live in different states at the moment, they are committed to making it work.
Article continues below advertisement
"This is definitely the most grown-up relationship that I've ever been in and it comes with a level of respect on both sides and he's actually a man," the star gushes about her happy relationship. "He's 35 so yeah, he has his s**t together and is very respectful."
Article continues below advertisement
Her new boo has already met her adorable 8-year-old son Hudson, whom she shares with ex-husband Josh Hughes, and she has already gotten acquainted with her man's family. "He will soon be meeting my family and he's met my son," she said. "[It's] going very, very well, and even my ex-husband approves."
So far, everyone has praised her new relationship. "I haven't had anyone not approve so far. And this goes with all my friends and everything," she gushed.
Article continues below advertisement
LeCroy has had a headline-making few months. The star was accused of having an affair with Alex Rodriguez while he was still with Jennifer Lopez. LeCroy denied the allegations but did reveal that Rodriguez "contacted me, and yes, we DMed, but other than that there was nothing." Though a source close to Rodriguez said he didn't even know LeCroy, it's believed that the drama factored into his messy breakup with J.Lo.
It was also speculated earlier this year that LeCroy had a fling with former NFL star Jay Cutler. LeCroy went so far as to leak their alleged text messages online, but things seemed to fizzle out after the Bravo beauty shaded his ex-wife and mother of his children, Kristin Cavallari.
Us Weekly was the first to speak to LeCroy about her new relationship.