Meek Mill & Travis Scott Get Into Heated Verbal Fight At Lavish Hamptons Soirée, Rappers Reportedly Pulled Away From Each Other
Meek Mill and Travis Scott got into a verbal screaming match at a lavish soirée in the Hamptons over Fourth of July weekend, resulting in the two being pulled away from each other, according to a report.
Article continues below advertisement
While it is unclear what the rappers were arguing about, sources claimed the rappers were separated before things escalated. During the confrontation — which allegedly occurred at around 1:30 a.m. — Mill went into a rage and could be heard shouting at Kylie Jenner's baby daddy, 29, even after they were split up, the sources claimed.
The incident occurred at a "White Party," which was thrown by 76ers co-owner Michael Rubin. Apart from the "Highest in the Room" rapper and "Going Bad" artist, Jay-Z, Robert Kraft, Alex Rodriguez, Jon Bon Jovi and more stars were also in attendance, per Page Six.
Article continues below advertisement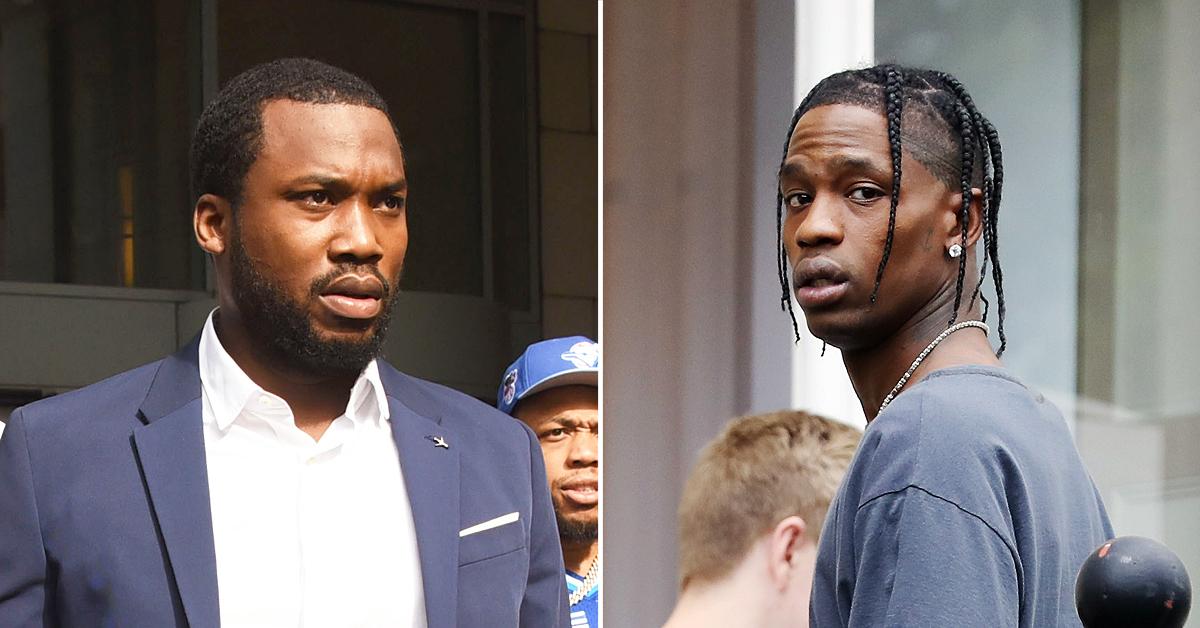 Article continues below advertisement
As far as the public is aware, Mill and Scott don't seem to have past beef with each other. Regardless of whatever occurred at the party, it looks like it didn't ruin Mill's night, as he's taken to Instagram multiple times to share photos of the extravagant event.
The "Dreams and Nightmares" rapper posted several photos with the hottest names in the music industry right now such as Jay-Z, Lil Uzi Vert and Lil Baby. Click here to see Mill's snaps of the over-the-top Hamptons bash.
Article continues below advertisement
Meanwhile, this wasn't Mill's first rivalry with a fellow rapper. Earlier this year, the 34-year-old and Tekashi 6ix9ine nearly came to blows outside of an Atlanta nightclub, with them both posting footage of the heated altercation. According to Mill, he and his entourage were ambushed by 6ix9ine and his crew who were waiting in the parking lot.
Article continues below advertisement
The two have been feuding ever since Mill posted a freestyle video where he seemingly taunted 6ix9ine by bashing "snitches." 6ix9ine, born Daniel Hernandez, took offense to Mills' rap, as he got his prison sentence shortened after testifying against his fellow gang members.
Mill, born Robert Rihmeek Williams, also had a multiyear feud with Drake; however, the two icons settled their beef by collaborating together. Their former rivalry dated back to 2015 when Mill accused the "Laugh Now Cry Later" rapper of using a ghostwriter on their "R.I.C.O" collaboration. From there, Mill and Drake continuously threw shade at one another in a series of diss tracks.